Seharawat 's 22 point Performance: Bengaluru Climbs to Second on Tally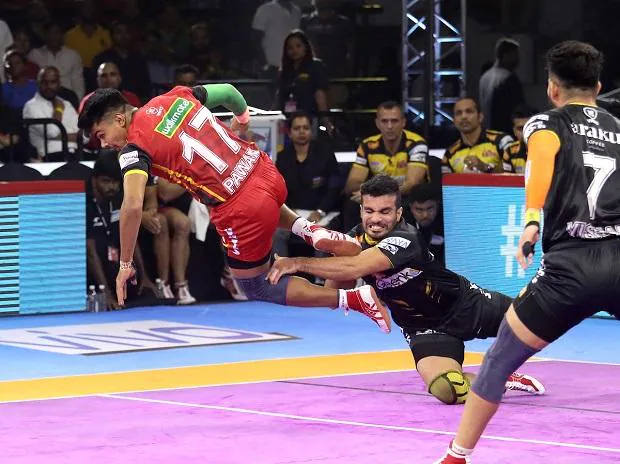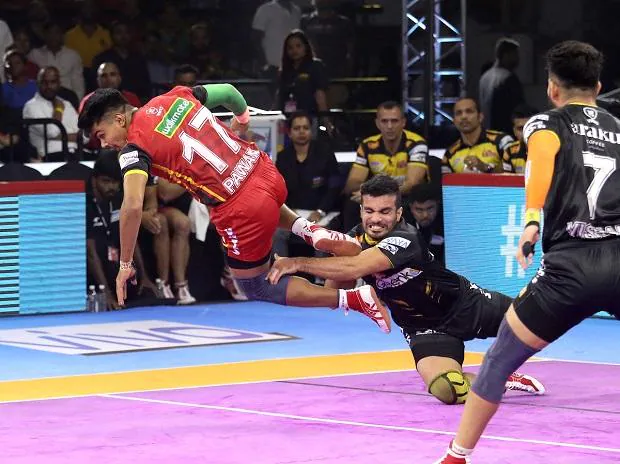 Bengaluru Bulls hopped on to the second position in the ongoing Pro Kabaddi League sponsored by Vivo with 8 points on the table after emerging as a winner after a 42-28 lightning win over their rivals Haryana Steelers. More G scored an excellent High 5 with his move for his team, i.e. Bulls, whereas Pawan Sehrawat led the team by grabbing 22 points.
The Steelers got a significant lead by 4-1 because of three points roped in via their defence. However, the Bulls were quick to chargeback with six points. The skipper Sehrawat brought four out of six points and left Steelers with only a single man left to fight on the mat. And defence by the Bulls gave a chance to Meetu for grabbing the bonus. However, he got pinned down to impose the game's foremost All Out hence taking a good lead by 10-5.
The game put up by Sehrawat was good as he continued to stand firm against the defence by the Steelers', which helped the Bulls in extending the lead, making them reach eight. The player from Bulls Surender Nada somehow managed to get off Sehrawat with a Back Hold which terminated the Bulls' constant charge. The last point was scored by Chandran Ranjit midway, which made sure Bengaluru made its way up to the half, leading by a good six points.
The defence by the Bulls and Sehrawat helped their team take off on a good run with 7-1 at the beginning of the latter half, which left the Steelers having only a few players to take the guard. The raid scoring two points by Ashish made sure that the Steelers didn't get to the situation of All Out. However, that didn't work much, as Sehrawat, along with Bulls defence, ensured they got off the remaining two players from Steelers on the mat hence taking the lead by 13-points.
The show by Sehrawat continued, taking the lead by Bulls to 14. It wasn't for very long since a few raids scored two points each by Rohit Gulia, and Mohit brought down the deficit faced by Steelers' to 10, leaving Bengaluru with only three fighting on mat. All the hopes of getting a comeback by Steelers were quickly hurled by a good Super Tackle played by More G, which a Do-or-die raid by Sehrawat further followed. It ensured that the Bulls maintained the pace with a lead by double digits.
Sehrawat managed to make his mark via his performance on both offence and defence, thereby leading his team to a huge win.