Karim Benzema becomes oldest Ballon d'Or winner in 66 years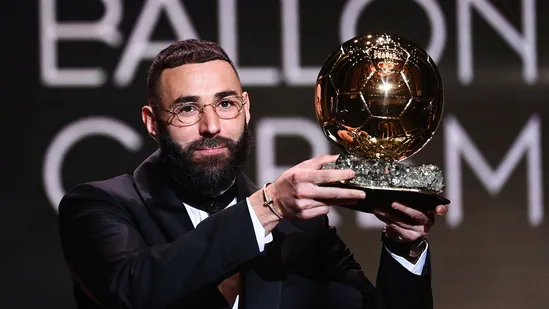 Karim Benzema rewrote history once again as he became the oldest Ballon d'Or winner in 66 years on Tuesday.
The French star is the oldest winner of the award at 34 since Stanley Matthews to win the award. Stanley Matthews won it in 1956.
After accepting his first Ballon d'Or award, Karim Benzema said that "Age is just a number".
"People play until their later years now and I still have this burning desire. It is this drive that has kept me going and never allowed me to let up," 34-year-old added.
Benzema is the first French player to win the trophy since Zinedine Zidane in 1998 and the fifth after Raymond Kopa, Michel Platini and Jean-Pierre Papin.
Benzema was outstanding in the current season. He found the goal 44 times for Madrid, including 15 in Europe's top competition, and equalled Raul Gonzalez as the club's second-highest scorer behind Cristiano Ronaldo.
Notably, He ended as the top-scorer in both La Liga and the Champions League.
Sadio Mané and Manchester City playmaker Kevin De Bruyn were the other two contenders for the award.
Mané had an eventful season as well. He initially played for Liverpool last season and joined Bayern Munich in the summer.
Benzema's next target would be taking France across the line in the World Cup. He wasn't part of the team's triumph in the 2018 World Cup but will be keen to take his team to back-to-back wins in Qatar next month.
Benzema went through a lot in recent times. He was involved in a sex scandal and was out of competitive football for more than six years.
Benzema was recalled by France coach Didier Deschamps last year ahead of the European Championship and has played regularly since.
"There were much more difficult moments for me when I was not selected (with France) and I did not give up," Benzema said after Zidane, his former coach at Madrid, handed him the trophy. "I am really proud of my career. This is the Golden Ball of the people."