Naveen Kumar's 25-point performance helped Dabang Delhi KC to reach the top: PKL 2021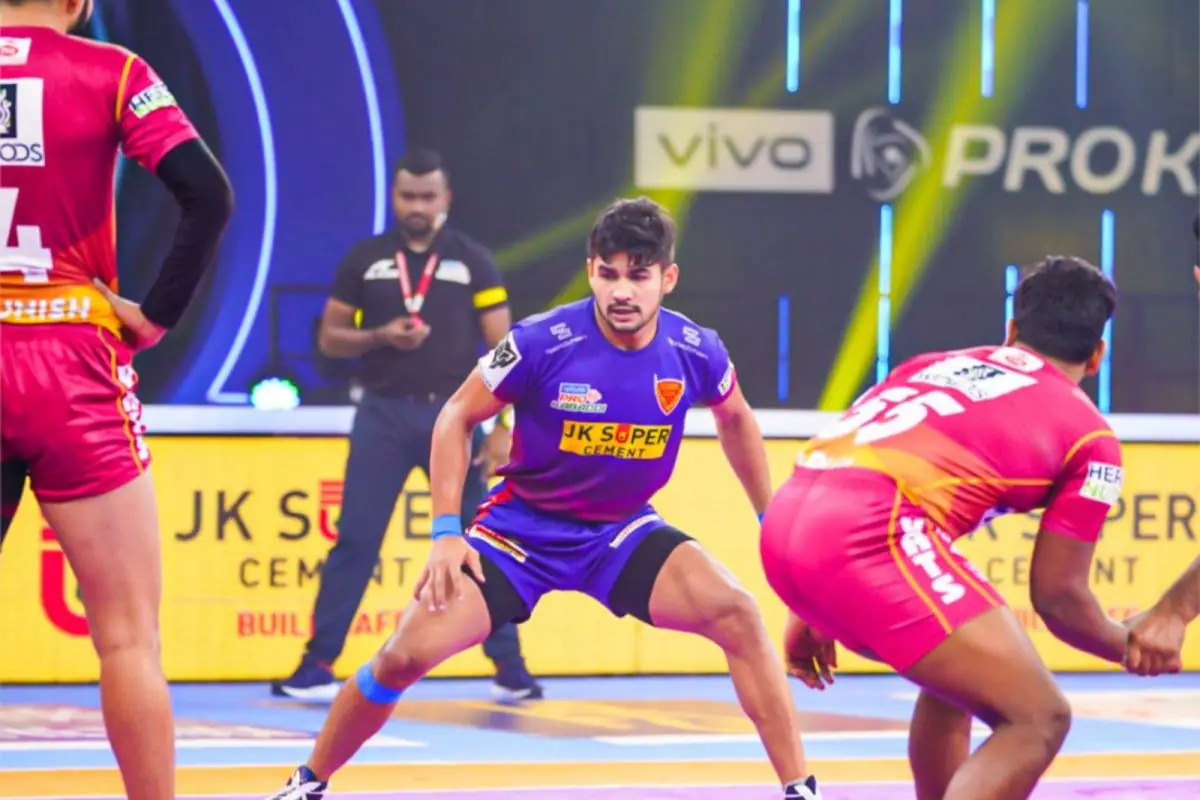 From spectacular raids to solid defence, Vivo Pro Kabaddi Season 8 witnessed a closed-knitted contest between Dabang Delhi KC and Telugu Titans. With a 25-point show, Naveen Kumar helped his franchise defeat the Titans 35-34 and occupy the first position in PKL's points table. On the other hand, Telugu Titans' Rajnish bagged his career's best 20 raid points but couldn't prevent the team's fourth defeat of the season.
The first six minutes of the first half saw Naveen's 5 points raid and Dabang Delhi 7-4 lead. But the Titans soon equalled the score with three unanswered points taken by Rajnish and Ankit. The Naveen Express and the Titans' Rajnish pocketed 4 and 3 points respectively for their team. These seven points gave Dabang Delhi a single point lead on the scoreboard.
A touchpoint on Surinder completed Naveen's Super 10 of the match and extended Delhi's lead by two points. But, Rajnish didn't hold back in giving Delhi their first All Out with a remarkable Super Raid and took the Titans 3 points ahead of the rivals. Naveen then made a stellar comeback with 5 points in just three minutes and outscored the Titans by four.
Due to their solid defensive lineup, Delhi got the fourth tackle point and a lead of 2 points. A Super Tackle by Surinder Singh sent Naveen off the court, and both the teams finished the first half at 18-18.
In the second half, Delhi's two unanswered points brought the Titans down to one man on the mat. However, the Titan's solitary raider scored a bonus point before getting tackled by the opponent's defence. Dabang Delhi thus inflicted the All Out with a four points lead.
With his three consecutive 2 points raids, Rajnish managed to keep his team's hopes alive and left Delhi with just one man on the court. But Naveen successfully avoided the All Out with his two-point raid and revived a defender. Rajnish again turned the game in his favour by getting the lead and claiming an All Out in the subsequent raid.
A perfectly executed ankle hold by Delhi's Krishan on Rajnish helped his franchise take a 2-point lead with only 30 seconds left before the final whistle. In the match's final raid, Naveen went in and surrendered a point, but it didn't matter as Dabang Delhi continued to remain an unbeaten team in the tournament.
Best Raiders
Dabang Delhi's Naveen Kumar with 25 points and Telugu Titans' Rajnish with 20 points are the top raiders of the match.
Best Defenders
Dabang Delhi's Manjeet Chhillar with 2 Tackle Points and Telugu Titans' Surinder Singh with 4 Tackle Points are the top defenders of the match.