Aslam Inamdar Led Puneri Paltan Achieve Victory with 17 Incredible Points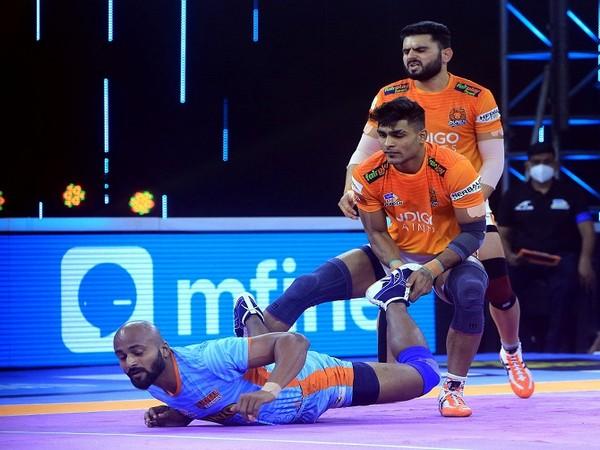 Pro Kabaddi League (PKL) 2021-22 saw the rise of Puneri Paltan's young show-stopper Aslam Inamdar. With a striking 17 points, Inamdar led his team to victory over the Bengal Warriors by 39-27.
In a breath-taking match night, the Paltan's defence beat their opponents by 13-2. Meanwhile, the Bengal Warriors' Maninder Singh scored 13 points to become the highest scorer for his team, while his teammate Akash Pikalmunde scored 8 points and took the second-highest place.
The beginning of the game was being led by the Warriors by 5-2 when in the fourth minute, Maninder made a Super Raid and slashed the Paltan to only two players. However, the shorthanded defence did a 180-degree turn when the Paltan played two Super Tackles and led the game by two points.
Shortly after, the Warriors were reduced to three players and went behind the Paltan when the latter made it to four by earning two more points.
The Warriors briefly held their ground with a Super Tackle on Paltan's Mohit Goyat. Unfortunately, Bengal was reduced to only one player on the mat when their counterpart scored three more unreturned points.
Nitin Tomar took out the last Warrior on the mat, and Bengal was All Out with the Paltan leading by seven points.
Puneri Paltan then pushed their lead to 12 by scoring five unreturned points with the help of Aslam Inamdar and the team's defence. Meanwhile, Maninder Singh and Akash Pikalmunde's joint effort led to three straight points before halftime. By the halftime break, Puneri Paltan led by 20-11 over Bengal Warriors.
In the second half, Maninder took two bonus points. However, the Paltan answered by getting three touchpoints over the Warriors. This led to an All-Out on Bengal Warriors, with Puneri Paltan taking the lead by 25-13.
The next few minutes saw both teams getting equal points while the Paltan retained their 12-point lead. While Maninder and Nabibakhsh jointly picked up two touchpoints and left three players on the mat on the Paltan side, the defence of the latter team answered with a Super Tackle to maintain their lead.
Later, three points were added to the Paltan by Inamdar that made their lead increase to 16. In a final couple of minutes, Pikalmunde picked up five unreturned points that unfortunately did not improve Bengal's final result, leading to the season's third victory of Puneri Paltan.