5 Best Defenders in Vivo Pro Kabaddi Season 8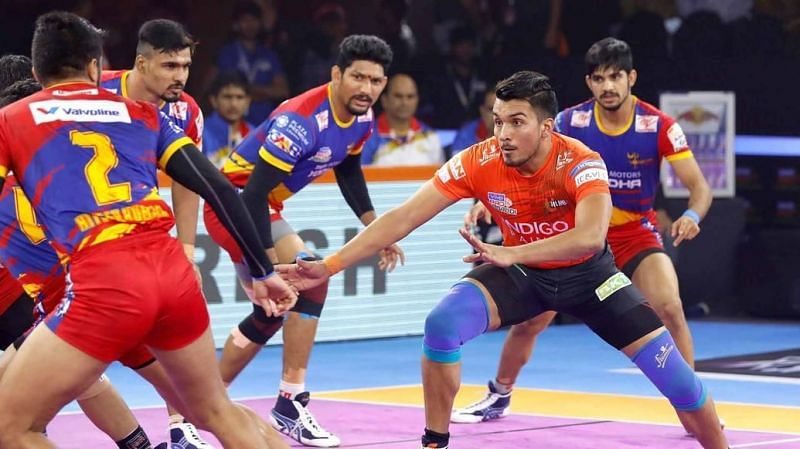 The 8th season of Pro Kabaddi starts on December 22nd, with 12 teams fighting for the ultimate trophy. Defenders in Pro Kabaddi work in pairs, and the perfect coordination between the defenders has taken the opposite teams by storm in the past. Kabaddi teams do their best to take more and more defending pairs. Here are the pair of 5 defenders you can watch out for this Kabaddi season.
Joginder Narwal and Sandeep Narwal
Sandeep Narwal, the right corner for Dabang Delhi, is the most potent defender in Kabaddi. He will defend with Joginder Narwal, who has helped the team to win two playoffs in a row. Their waist hold and body block tricks will be fun to watch.
Girish Ernak and Ravinder Pahal
Gujarat Giant's bought Ravinder Pahal for a staggering 74 Lakhs, making him the most expensive Kabaddi pro player this season. He has 326 tackle points to his name. Pahal also delivered a great performance in the last season for Dabang Delhi. Players are excited to see Girish Ernak's performance this year, as this Maharashtrian left corner is also a strong defender with 226 tackle points.
Nitesh Kumar and Sumit Sangwan
UP Yoddha retains Nitesh Human and Sumit Sangwan for the 8th season of Pro Kabaddi. Nitesh has a fantastic record of hitting a century of tackle points in the 6th season, finishing the seventh season with 75 points. Sumit is also a competent defender and the Best-Debutant award recipient. These two youngsters will once again do wonders for UP Yoddha this season.
Rinku Narwal and Abozar Mighani
Abozar Mighani has impressed the Kabaddi fans with his excellent defending skills since joining Gujarat Giants in the fifth season. He needs only 40 tackle points to cross the 200 and become the second overseas player to score two centuries tackle points. Abozar with Rinku, another competent defender for Bengal Warriors, will pair up this season.
Baldev Singh and Vishal Bhardwaj
Vishal and Baldev will defend in pair for Puneri Paltan. Baldev scored 6 high-5s and 66 tackle points in the Pro Kabaddi League 7th season. Vishal played for Telugu Titans for four seasons. These players have paired before for Himachal Pradesh, and the same spirit of confidence is expected in the 8th season.