Steven Gerrard And Pep Guardiola React After Aston Villa Goalkeeper Robin Olsen Assaulted By Manchester City Fan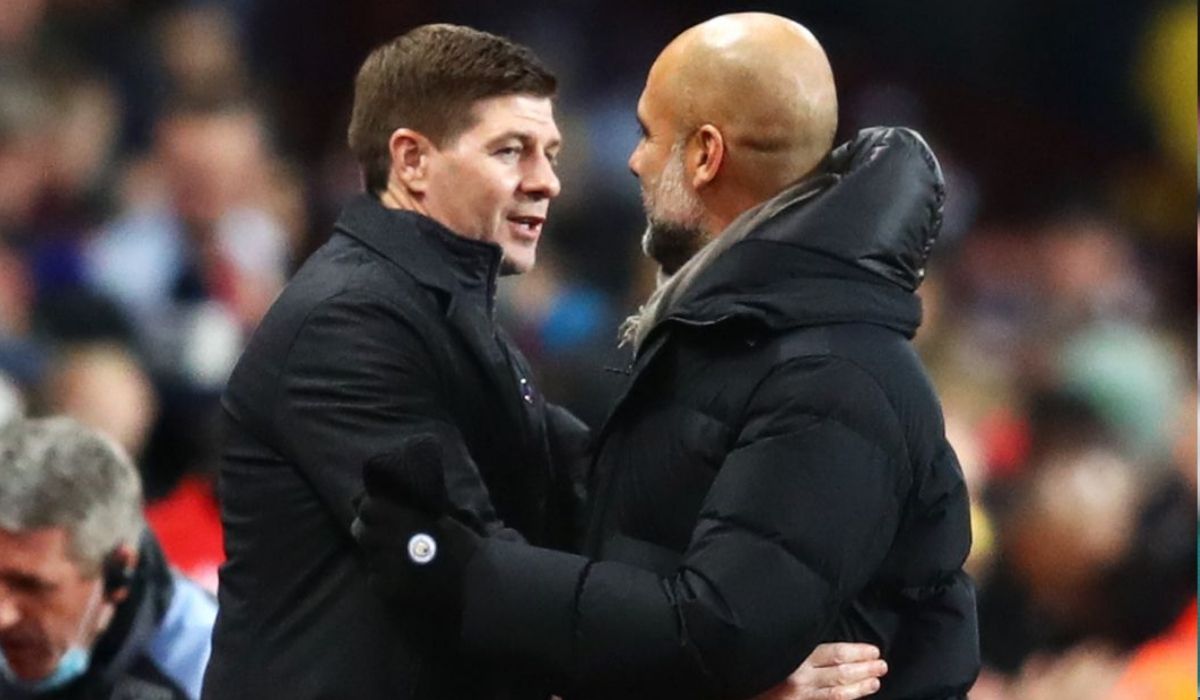 Manchester City won their eighth English Premier League title with a 3-2 win against Aston Villa in the last league match on Sunday evening. City made a great comeback with 3 quick goals after trailing to 0-2 at Etihad. Manchester City fans enjoyed this memorable comeback win to lift the title throughout the world as soon as the final whistle blows. Fans invaded the Etihad Pitch in big numbers to celebrate the league triumph and there were some ugly scenes to follow as well.
One Manchester City fan was spotted assaulting Aston Villa goalkeeper Robin Olsen with a smack on the back of his head. Police and steward were outnumbered to control this crowd for the hours. Manchester City midfielder Kevin de Bruyne and Ilkay Gundogan were also surrounded by the fans but later rescued by stewards. Some fans even vandalized the goalpost but no fan or player was injured during this infamous celebration.
Steven Gerrard's Angry Response After Robin Olsen's Assault:
Aston Villa Manager Steven Gerrard was disappointed with a result after throwing away 0-2 away lead. The Villains finished this season in 14th position with just 45 points after an early impressive start when Gerrard arrived in November last year. He was truly gutted with Robin Olsen's assault incident and stormed off the post-match press conference, when asked by reporters about player's situation after the match.
'No, my goalkeeper was attacked. 'I think those questions should go to Manchester City. We'll go and check if he's OK now.' – Steven Gerrard.
The 32-year-old Robin Olsen joined Aston Villa on loan from Serie A giants AS Roma this season. This was his first match in Villains jersey and he impressed with his quality saves in the first half. Olsen also took his social media platform to address the assault after the match but with a great professionalism.
"Those idiots who attacked me will not destroy my emotions of today's game," "I got the opportunity to make my debut for this fantastic club, and we were close to getting a good result against a tough opponent. UTV." – Robin Olsen after getting assaulted.
Manchester City And Pep Guardiola Apologise:
Aston Villa later released an official statement stating the player is completely okay. Manchester City were also quick to respond with an official apology to the Swedish goalkeeper. They have launched an immediate investigation into this matter and promise to issue a lifetime stadium ban to the culprit.
'The club would like to sincerely apologize to Robin Olsen, who was assaulted after the final whistle when fans entered the pitch,'
The club has launched an immediate investigation and once identified, the individual will be issued an indefinite stadium ban.' – Manchester City's official statement.
Manchester City's manager had already asked fans to behave before the last match against Aston Villa and was frustrated with fans' behavior after the clash.
'I'm so sorry on behalf of the club. It is difficult to think why people react in that way. Hopefully, we can discover the person and he can be punished.' – Pep Guardiola.
Manchester City won their fourth league title under the management of Pep Guardiola. Once again, Steven Gerrard's former team, Liverpool, finished 2nd with just a point behind after winning against the Wolves yesterday. Both Liverpool and Manchester city are dominating English football recently and have grown into shaping a good healthy rivalry lately.