Mikel Arteta hints he has found the solution to Arsenal's striker woes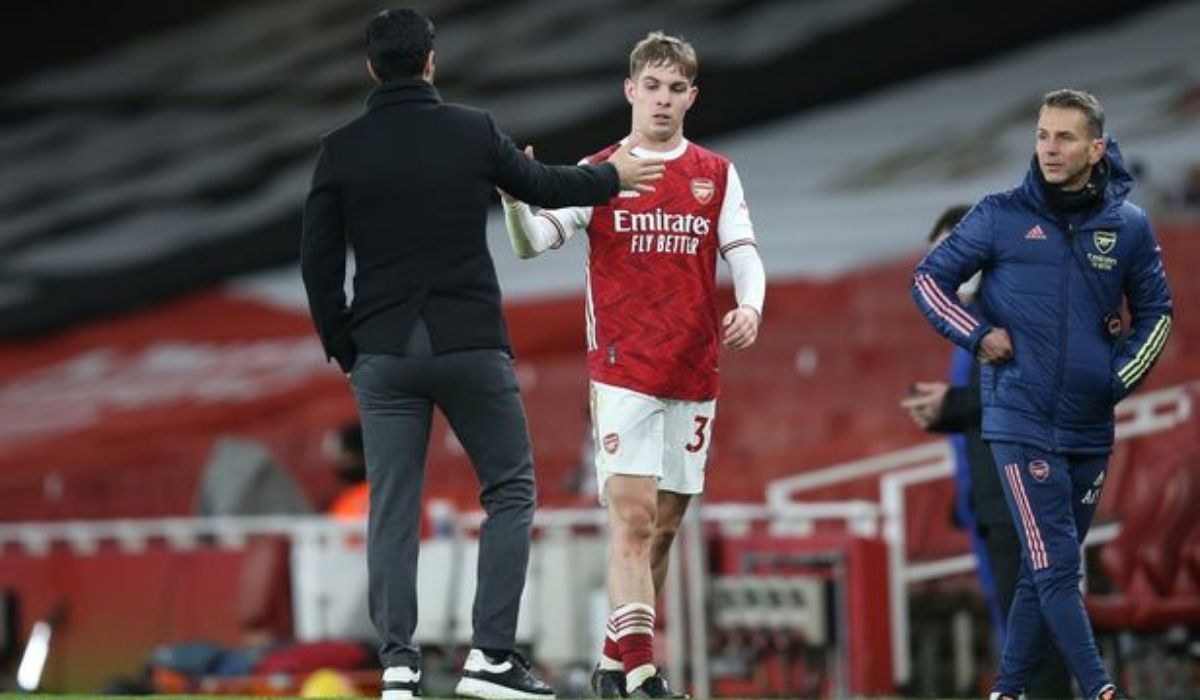 Arsenal is in a situation where they might be without a striker by the end of this season. While the absence of a proper number nine could be a matter to worry about considering the fact that the Gunners are in contention to return into the top-4 spot in the Premier League, Mikel Arteta seems to be calm about the situation as he considers an academy graduate to fill that void.
The last time Arsenal appeared in the Champions League was during the 2016/17 season. After getting hammered by Bayern Munich in an aggregate scoreline of 10-2, they have not been a part of it since. For the past five seasons, they have been working hard to get back on top, however, it has been continuous decline instead of progress.
Mikel Arteta Drops Big Hint
Having downgraded to a Europa League side, the fans were accepting the club's fate. But they were dealt with another blow when Arsenal failed to qualify for any European competition this season. This was also the first time in the last 25 years that the English side failed to be a part of European competitions.
Piling up on the misery, the unrest in the squad is troubling their progress to get back on the top as well. Pierre-Emerick Aubameyang had joined them in 2018. He instantly became their biggest asset and his contributions played a huge role in keeping the club afloat. He was recently handed the captain's armband but was stripped of it after failing to report back on time from a sanctioned trip.
Along with being stripped in December, he was also dropped from the squad by Arteta and that was also the last we saw of him in the Premier League. With six months remaining in his contract, Arsenal wanted to part ways and did so when Barcelona signed him for free.
With their primary goalscorer out, Arsenal is now short upfront and they will be running empty in no time. The only other strikers remaining for them are Alexandre Lacazette and Eddie Nketiah. However, their contract also expires in six months and it is looking highly unlikely that it will be renewed. Arsenal tried signing a prolific striker this January but failed.
As of now, the Gunners' future might be looking bleak, but the manager thinks that they have a possible answer to the problem. Emile Smith Rowe has earned high praises from Mikel Arteta and his performances are seen as a ray of hope during the clouded days. The 21-year-old had his breakout last season and has been an integral part since.
Arsenal's hope of finishing in a top-4 position remains intact thanks to the convincing 2-1 victory over Brentford last Saturday. Smith Rowe scored one of the two and earned praises from the manager. Arteta said, "I think he can play in four positions. He can play as a left-winger, he can play as a left attacking midfielder, right attacking midfielder and he can play as a 9; very, very well I think."
Surprisingly, he is also their top scorer this season with nine Premier League goals. And being the first academy graduate since Cesc Fabregas to score 10 or more in a campaign, the expectations are genuine. However, he is thriving in his current position and evolving into a number nine could be an option for the future.