Mbappe? Barca veteran picks the best attacking transfer target for the Blaugrana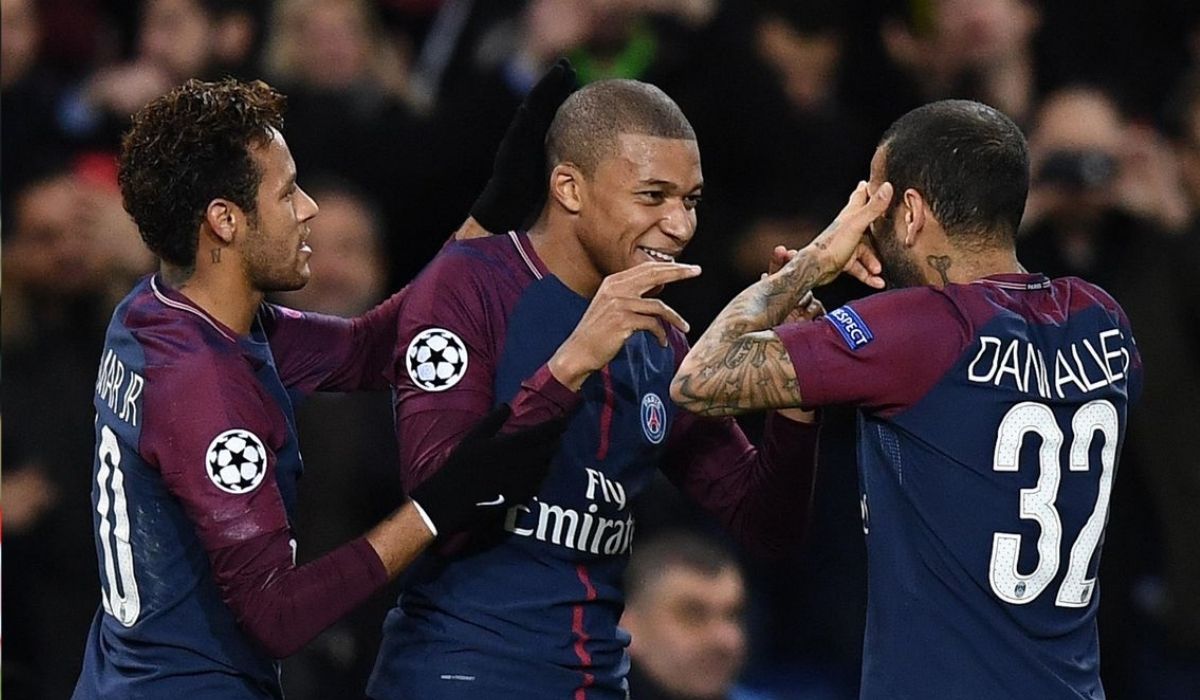 Kylian Mbappe and Erling Haaland have both turned out world-class and are keenly targeted by many clubs. Their goal-scoring ability and skills are in the highest demand and no one will want to miss out on an opportunity, especially when they are available for cheap. Even though they are equally talented, having them both in one team is next to impossible. Barcelona's left-back, Dani Alves has made his view clear on who he would choose between Mbappe and Haaland if Barcelona were to pursue any.
Erling Haaland saw a quick sprout after he made his Champions League debut with RB Salzburg. He was soon recruited by Borussia Dortmund where his goal-scoring run was intensified more. Having maintained an insane ratio of one goal per game, Haaland soon found suitors lining up for his signature. Due to his improvement, his value had also seen a huge rise and clubs were even willing to pay it.
However, Dortmund had no plans of parting ways with him soon. Haaland's contract has got a release clause in it. This means, a club can sign him if they can meet the clause of €75 million, which is half of what his market value is. Even if a club has to splash this much amount, it is a bargain given the contributions he can make upon his arrival. The clause will be activated at the end of this season, and the club that can sell him the best idea will earn the goal-scoring machine.
Getting Haaland will be cheap, but getting his deemed rival is free. Kylian Mbappe has risen to stardom thanks to his speed and skills. He has already surpassed many records and has many years to break more. Since joining PSG for a world-record fee, Mbappe has been a crucial member of the squad. Although his contributions could not help his side in a Champions League triumph, he has developed into one of the deadliest strikers in the world.
His contract is set to expire this summer, which means he will be available for free for a club to pursue him. However, competition is unlikely to happen as the Frenchman has already decided on his future as it seems. Mbappe has longed to play for Real Madrid and he had openly declared it last season. He requested PSG to leave so that a bid can be received for his departure.
Even though Los Blancos made a mammoth bid, PSG declined it with the hope of retaining him. And with only a few months remaining on his contract, a decision favouring Les Parisiens is not likely to happen. Even though his next destination is likely fixed, Barcelona was linked with him alongside Haaland.
Although grabbing both the stars will be sensational, it will never happen for the Blaugrana, especially given their current financial scenario. They will be hoping to bring in at least one, but Barcelona president, Joan Laporta has clarified that he won't sign anyone who will break their salary system.
Dani Alves, however, has voiced his opinion on who he would like to see play for Barcelona. Despite their fiercest rivals being the favourites for him, the Brazilian would like to see the PSG star at Camp Nou, who he considers to be the complete forward.
"I wouldn't throw a lot of money at Haaland. Honestly, I wouldn't spend a lot of money on him. Mbappe yes, but not Haaland. If I was a sporting director, I'd bet on Mbappe first, he is more complete in all aspects.
If you are going to make a huge investment, you do it for the best. Mbappe's the best there is, and the best for Barca's style. Right now, there's no one better than him", he told to Marca via Football Espana.
Kylian Mbappe
| | | | | | | |
| --- | --- | --- | --- | --- | --- | --- |
| Tournament | Appearances | Goals | Assists | Passing accuracy | Man of the Match | Rating |
| Ligue 1 | 26(1) | 17 | 13 | 81.3% | 9 | 7.89 |
| Champions League | 8 | 6 | 4 | 83.1% | 1 | 7.81 |
Erling Haaland
| | | | | | | |
| --- | --- | --- | --- | --- | --- | --- |
| Tournament | Appearances | Goals | Assists | Passing accuracy | Man of the Match | Rating |
| Bundesliga | 16(3) | 16 | 6 | 70.4% | 4 | 7.50 |
| Champions League | 2(1) | 3 | – | 56% | – | 7.15 |