Joe Hart opens up on brutal Pep Guardiola chat that saw his Man City career "taken away"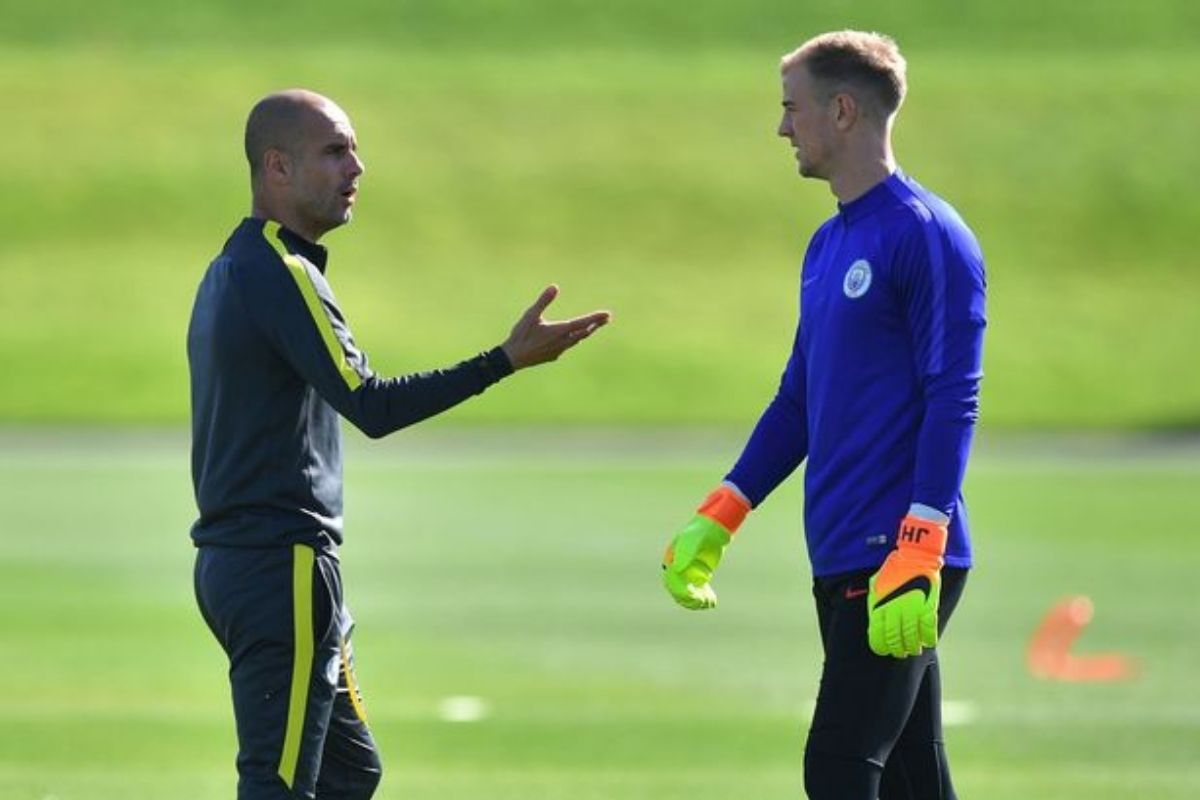 Joe Hart has been one of the most important names in Manchester City's history of success. The goalkeeper has been the club's number one choice for eight long years. However, despite his fame and talent, Pep Guardiola's arrival saw his role meet an end. Talking about his end at City in a podcast, he revealed the brutal talks with Pep Guardiola that abruptly closed his chapter there.
The English professional was one of the most important goalkeepers of his time. He started his journey at Shrewsbury Town before joining the Cityzens in 2006. After spending a few years on loan, he cemented his place from the 2010/11 season. He was present between the posts when City recorded their first Premier League title.
Joe Hart wents down the memory lane
During this spell, he amassed more than 100 clean sheets and also represented England 75 times. Moreover, he holds the joint record in the league for the most (four) Golden Glove awards. His journey at the Etihad Stadium could not have gone better. From helping his rejuvenated side reach new heights to being a player loved by the fans, his career was glorious.
But everything changed once Pep Guardiola became the manager of the club. He was not only a priority for the Spaniard but was also abruptly put aside by the manager. The former Barcelona manager preferred a keeper with better footwork and right away signed Claudio Bravo from the Catalans.
Hart could have fought for his place had he been moved down as the second choice. However, the Englishman was pushed further down to third with Guardiola even considering former backup, Willy Caballero ahead of him. A decision on his future was visible there itself and soon enough he left the club. The 34-year-old player has finally opened up on the brutal discussion with Guardiola that saw his end at the club.
"I wanted to get in the door and have this conversation. He was very knowledgeable about my background, very knowledgeable on what we did, how I played football, it was a two-hour conversation that kind of ended with him saying 'I can't see this working'.
I said 'I don't agree with you'. He said 'I'll be the first person to be proved wrong but what I see in you isn't what I want from my goalkeeper'. I was like 'It's only fair I will be given the opportunity. He said 'of course, you'll be given the opportunity, but…'. As soon as there are any 'buts' at the end you know there's a decision.
I wanted the opportunity to be coached by one of the best at it. Of course, I didn't know how to do it, why would I know how to do something that I'd never been asked to do or taught to do? I suppose he was right, I couldn't do it, he couldn't just drop me into a team to play like he wanted to at that moment in time. It was taken away from me, but so what?
I'm not bigger than anyone and if that's my path then that's my path. The people of Manchester City will forever be in my heart, I'll forever be grateful for that, but the team, the hierarchy, they're businessmen."
As mentioned, that was his end and he only made one appearance under the new manager. He was sent out on loan in the 2016/17 season to the Serie A side Torino, which was followed by a stint with West Ham United. He bid adieu to Manchester City officially in 2018 when he joined Burnley on a permanent deal.
Struggling for game time, he was signed by Tottenham Hotspur, but there was no improvement. He once again made a move, as he joined the Scottish giants, Celtic last summer. So far, the 34-year-old has managed to secure the number one spot there.