India defeat Nepal to lift SAFF U-17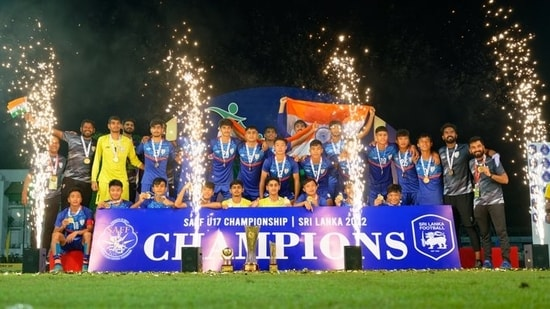 India produced an excellent performance to lift the SAFF U17 Championship, defeating a 10-man Nepal side by 4-0 in the final at Racecourse International Stadium, in Colombo, Sri Lanka.
The Indian stars Boby Singh, Korou Singh, captain Vanlalpeka Guite and Aman scored a goal each to help India to retain the title.
This was excellent revenge for the group league loss against the same team. Nepal defeated India 3-1 in the group match.
However, in the final, India looked like a different team and they began to attack right after the whistle. They got off the blocks early in the match, looking to find gaps in Nepal's defence. After consistent efforts, Boby made this happen for India in the 18th minute. He headed one into the goal at the far post. He was well assisted by Ricky Meetei and Vanlalpeka Guite. The latter sailed a cross towards Boby.
India once again dominated and tried to pierce the defence. This time, Guite found a way after 12 minutes of their 1st goal. He assisted well by playing through ball to Korou Singh.
After India's second goal, Nepal began to feel the pressure and attacked with more urgency but Indian midfielders were at the right spot at the right time.
The frustration further led to a controversy on the field. At the 39th minute, Nepal Captain Prasant Laksam elbowed Danny Laishram on the back after these two tangled up for the challenge. This didn't go well with the referee who straightaway awarded a red card.
With only 10-man on the Nepal side, things began to become easier for the Indian team. They ended the 1st half with 2-0 and then went on the score their 3rd goal in the 63rd minute. Guite, who was a part of two assists earlier, scored the third one.
The fourth goal came during injury time when India's second-half substitute Aman netted the fourth goal.
Meanwhile, Nepal's second-half substitute Dhan Singh tried his best to get through the Indian defence and was almost successful twice but one man advantage helped India to nullify his efforts.
As a result, India successfully defended their title.
Head Coach Bibiano Fernandes hailed the effort of his boys. "I am extremely proud of my boys. There has been a lot of hard work put in, and every support staff and player deserves equal credit. The efforts put in by AIFF at the youth level by providing us continuous exposure tours with help from SAI has helped the boys mature."
Indian captain Vanlalpeka Guite was named the Most Valuable Player of the Tournament while goalkeeper Sahil won the Best Goalkeeper award.