"Getting back to where they need to be" – Steven Gerrard says Xavi's appointment as manager was a 'masterstroke'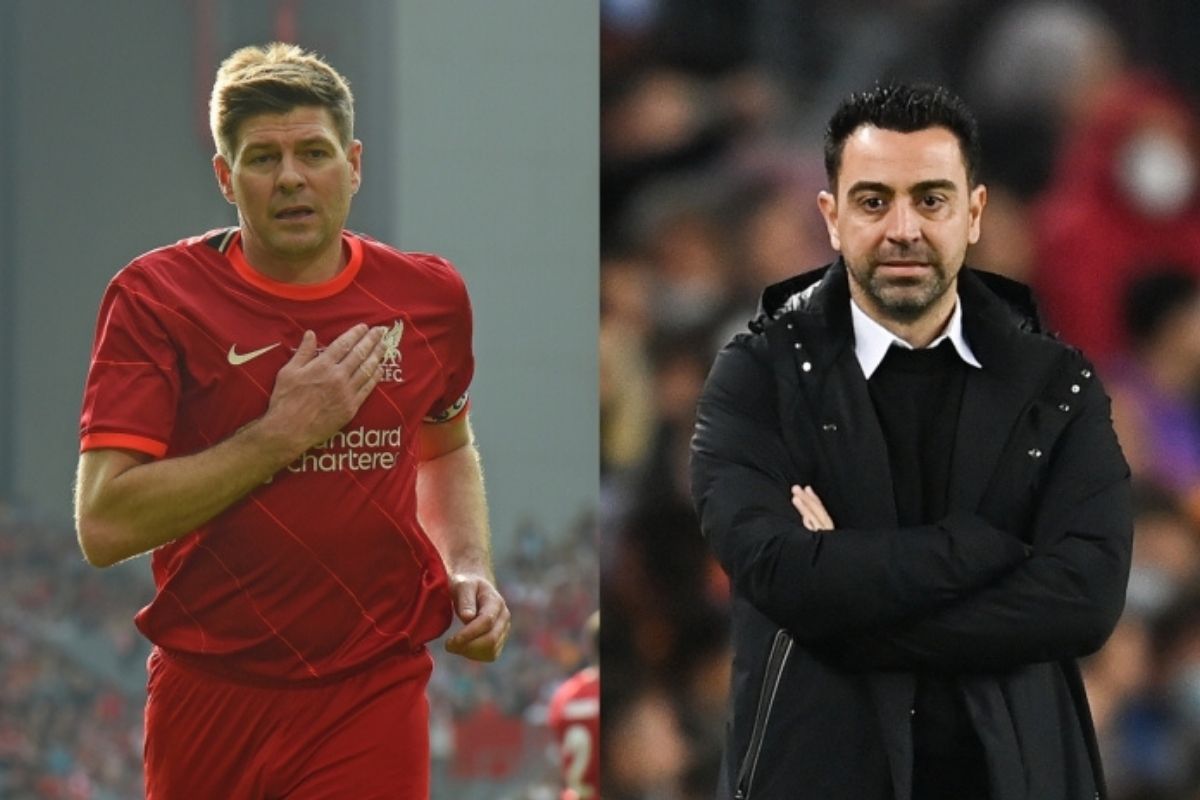 Xavi was appointed as Barcelona's new coach in November and was handed a strenuous task. However, the Spaniard has surpassed the requirements and has done so with ease. While praises keep pouring from all sides, Steven Gerrard's response to his appointment is what everyone feels. The Aston Villa manager spoke after the charity match between Liverpool and Barcelona, where he mentioned that Xavi's appointment was a masterstroke by the club.
Barcelona fell victim to one of the worst starts this season under Ronald Koeman. On top of losing their key player Lionel Messi, Barcelona tumbled immensely in every competition. By the time Koeman was sacked, the damage was already made. At the point of his removal, Barcelona was 11th in La Liga and was almost out from the Champions League.
"Getting back to where they need to be" – Steven Gerrard
The 42-year-old Spaniard took over with a colossal task. Despite his best efforts, Barcelona could not progress in the Champions League and was transferred to the Europa League after finishing third in their respective group. But he bought the transition where he was able to do so.
An incredible turnaround in the team morale indirectly helped in their performance as a result of which Barcelona are currently third in the league. All thanks to an unbeaten run from December and the crucial signing in January. Moreover, they have reached the quarter-finals in the Europa League.
Barcelona's financial situation is terrible, and they were well aware of the players they could get. They secured four players, out of which, only one, Ferran Torres, was signed for a fee. Dani Alves and Pierre-Emerick Aubameyang signed on a free transfer and Adama Traore joined on a loan spell. Surprisingly, all four have been a major success at Camp Nou.
Their addition also saw Barcelona improve offensively as they scored 4+ goals on six occasions with the latest one being the thumping win against their fiercest rival, Real Madrid. All this has helped them climb a nearly impossible mountain as they sit third with 54 points from 28 matches. They can move up second with a game in hand if they defeat Sevilla in the next encounter.
At the weekend, Liverpool legends faced Barcelona legends for a charity fixture. An entertaining meet-up saw Barcelona win 2-1, with the legend, Steven Gerrard the only scorer for the Reds. After the match, the Aston Villa manager spoke about the Catalans and was full of praise for their decision to appoint Xavi as their manager.
"I think the appointment of Xavi was a masterstroke by Barcelona to appoint someone who has Barcelona in his DNA and who was a world-class player for so many years," said Gerrard after the charity fixture was over.
"He obviously knows the style that everyone around Barcelona wants to see. After some challenging times, it looks like as if they are getting back to where they need to be. It was obviously a huge result against Real Madrid. As a Barcelona fan from afar, it's really good to see them back doing well."
Gerrard's managerial record is also one to keep an eye on. He began his journey with the Rangers in 2018. Although it started on a rough note, the club's run in 2021 earned him all the applause. That season, he guided the club to their first title in 10 years after completing the season undefeated and earning a club record of 102 points.
Just like Xavi, he also switched clubs in November and became the manager of Aston Villa in the Premier League. He has been doing a decent job so far and has guided his side to the ninth position in the league with nine more matches left to play.