Eden Hazard set to miss Chelsea tie, Player set to undergo surgery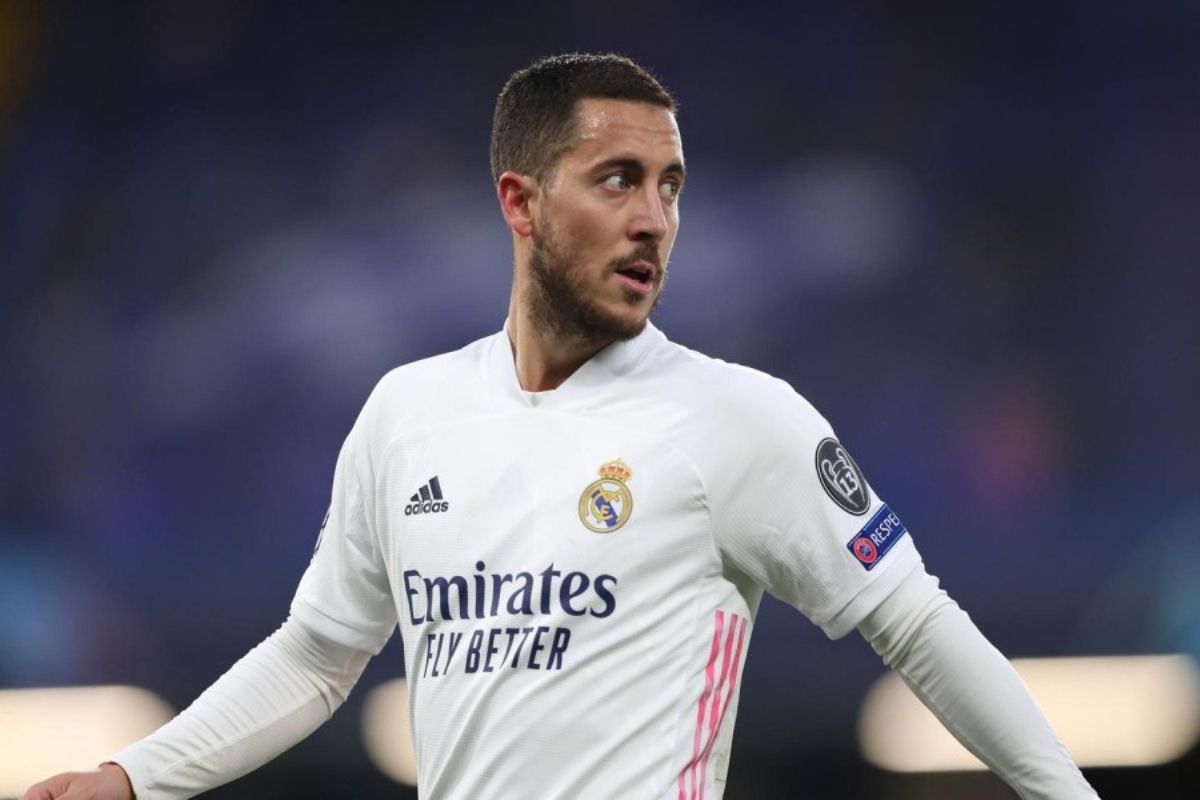 Real Madrid has been dealt with another nightmare as Eden Hazard will be out for at least a month. The Belgian star is set to undergo ankle surgery to remove the plate in his fibula. Having featured only 65 times since 2019, Hazard will be missing out on the reunion with Chelsea in the Champions League quarter-finals.
Eden Hazard made his £100 million-plus move from Stamford Bridge to Santiago Bernabeu in 2019. The price tag was legitimate for a player of his caliber they were aiming to recruit. However, he has failed to meet the expectations since moving and has struggled to regain his form due to injury problems.
The 31-year-old forward was in magnificent form at Chelsea. Moreover, his final few years at the club saw him reach an untouchable level in the Premier League. He was compared with the likes of Cristiano Ronaldo and Lionel Messi and could have even ascended the podium as they were slowly beginning to vacate their crown.
Eden Hazard set to miss Chelsea tie
There was nothing wrong with his form at Chelsea, but everybody felt that he needed to move elsewhere if he were to truly fulfil his potential. But no one expected downfall of this sort. What was meant to be the final push to greatness turned out to be a nightmare for the Belgian.
The winger has been a victim of various injuries at Real Madrid. With at least 15 injuries hampering his form, Hazard has succeeded in making only 65 appearances so far since joining Los Blancos in 2019. He has failed to make an impact in the limited outings with only 16 goal involvements. Since joining Madrid, he has never been involved in El Clasico either and was an unused substitute in the recent thrashing.
This season, he has featured 22 times but has contributed only to one goal and two assists. According to reports, Hazard is set to be sidelined for around a month, which means he'll miss out on his reunion fixture with Chelsea and many other fixtures as well.
Hazard is set to undergo surgery to remove a plate from his right leg which was implanted a year ago when he broke his ankle. A club statement read, "In the coming days, our player, Eden Hazard, will undergo surgery to remove the osteosynthesis plate in his right fibula."
The last time he featured for his club was on February 19, when he made a five-minute appearance against Alaves. And we will have to wait at least a month more to see him in action again. Real Madrid has been trying to solve this matter and offload the injury-prone player. Keeping him is not benefiting them in any way and paying £240,000-a-week for his not helping either.
They have attempted to sell him in the previous transfer windows but to no success. Despite the lack of playtime and the injuries hampering his form, Hazard is determined to stay and fight for his place in the team and has no intention of leaving the club before his contract expires in 2024.
| | | | | | | |
| --- | --- | --- | --- | --- | --- | --- |
| Tournament | Appearances | Goals | Assists | Passing accuracy | Man of the Match | Rating |
| Champions League | 1(2) | – | – | 90.6% | – | 6.41 |
| La Liga | 7(10) | – | 1 | 91% | – | 6.57 |