Can Liverpool Shock the Leaders or Will Manchester City Defend Their Title?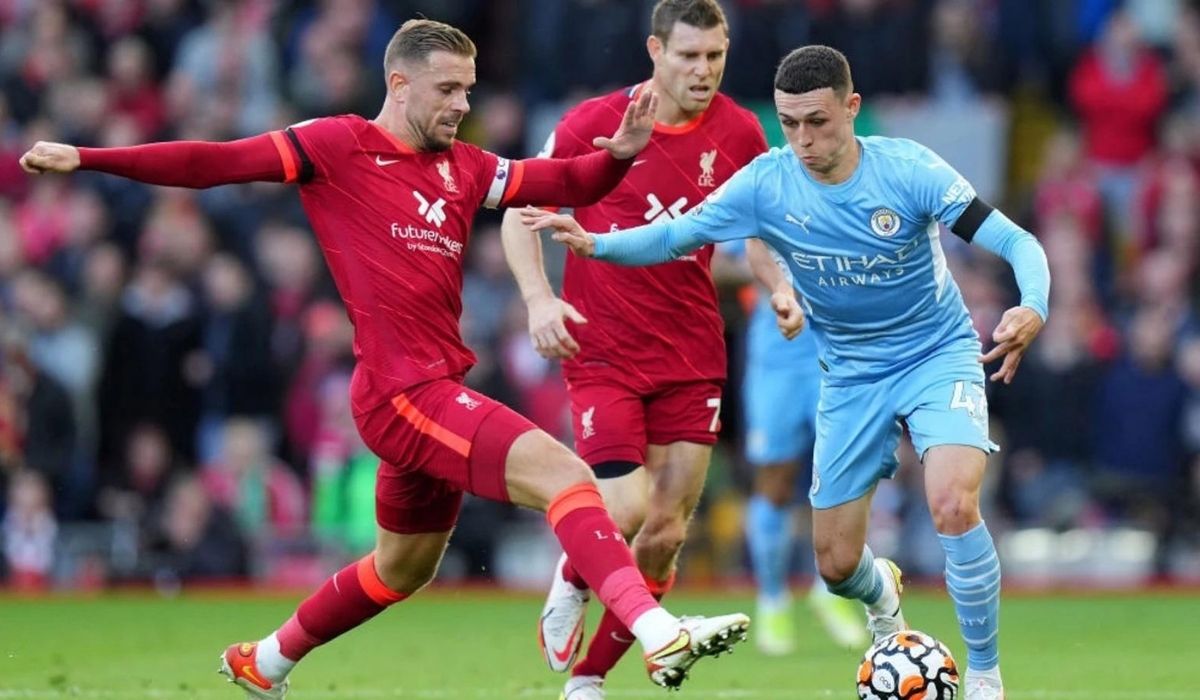 No one would have expected the Premier League title race to go down the wire and yet here we are. With just seven more matches left to play, neither Manchester City nor Liverpool are giving up with the prior holding the lead by just a point. We all know one of them will be lifting the title but waiting patiently for six more weeks is making everyone anxious. Because of this, Sportsmail has predicted the results of each side's remaining fixtures to find out who will come out on top.
It was a title-deciding fixture this Sunday as the Reds visited Etihad Stadium. While the winner would have received an immeasurable boost in the title race, they settled for a 2-2 draw, keeping the suspense until the final day. However, Sportsmail took the honours to reveal a potential spoiler.
City might currently be in the lead by a point, but Sportsmail believes Liverpool to pip the defending champions by a point at the end of the season. Although the Reds have a tougher set of matches compared to their rival, their form could be considered the wildcard to jump ahead.
Let us look at where City falters as Sportsmail looks into its crystal ball to predict the outcome of each side's remaining fixtures.
Manchester City – six wins; one draw; 93 points
April 20: City 3-0 Brighton
Pep Guardiola is a huge fan of how Brighton plays, but his side is way superior to being troubled by Graham Potter. Brighton's strength comes from the midfield and Potter will be using his strength to press more in key areas. Their previous meet saw City thrash Brighton 4-1.
April 23: City 3-0 Watford
Watford are unofficially relegated. They are eight points below safety and it is not likely for them to surprise everyone given their remaining fixtures. However, City will be hosting with their guns blazing. They cannot commit a mistake even if they are facing a lower table side. Although Pep might rotate his squad to keep his players fit, it won't affect their performance much.
April 30: Leeds 1-2 City
Leeds lost Marcelo Bielsa and are currently undergoing a transitional period. Jesse March became the manager and struggled at first. However, Leeds have found their winning ways back and are unbeaten in their last four matches. Although this might be a sign of worry for City, Leeds' tendency to give up chances could be capitalized by Pep's side and there should be enough to outscore the hosts.
May 8: City 2-0 Newcastle
A resurgent Newcastle United revived under the new ownership did extremely well as they have survived relegation with some promising performances. However, currently, in a place where they have nothing to play for, they have loosened up a bit and City can be expected to comfortably notch up three points.
TBC: Wolves 1-1 City
Behold the fixture that is meant to hurt Manchester City. Guardiola does not have a great record at Molineux Stadium as he has managed to win only once, which was also a hard-fought one, in three visits. What makes it more intriguing is the date of the fixture. It is yet to be announced and that can impact City's run immensely.
May 15: West Ham 1-2 City
This result also has the potential to change depending on City's progress in the FA Cup. Although City might face some trouble given their result last time they visited London Stadium, they can grind a win this time.
May 22: City 4-0 Aston Villa
City will be facing a formidable opponent on the final fixture of the season, however, the visitors cannot get a result in their favour. Although City are facing Steven Gerrard and Philippe Coutinho who will be giving their best to help Liverpool, City never takes the final fixture lightly and the match being held at Etihad Stadium gives the hosts a major advantage.
Liverpool – seven wins; 94 points
April 19: Liverpool 3-0 Manchester United
Gone are the days when this fixture used to be the most heated one. Liverpool will be facing one of the worst United sides. Moreover, playing at Anfield has already confirmed the outcome. All United can do is lessen the humiliation they received in the first encounter this season.
April 24: Liverpool 3-1 Everton
The Merseyside derby has also been dull for a while but Everton can always hope. The Toffees are enduring their worst ever season and relegation was a scare. However, the win against United has given them an immeasurable boost which they will hope to maintain ahead. However, toppling the Reds might be an undoable task for now.
April 30: Newcastle 0-2 Liverpool
Newcastle did trouble the giants in the first fixture but was eventually overpowered by them. They can test them again as they have nothing to lose rather than securing a decent position.
May 7: Liverpool 2-1 Tottenham
This is the biggest test for the Reds in the remaining fixtures. Spurs are on a great run and they need to win every match to secure the Champions League spot. The result might tilt either way, but Anfield is a ground where Liverpool seldom yields.
May 10: Aston Villa 1-2 Liverpool
Everyone must be thinking that Gerrard might do his old club a favour and give them an upper hand in the title race. Not only will that be unprofessional but also receive hate from his current fans. However, Liverpool can grab the win as Villa are currently facing a tough period.
May 15: Southampton 1-3 Liverpool
This could further become the decider for the Reds. If Liverpool manages to win the FA Cup semi-final, this fixture will be moved to a mid-week date, which means more games with fewer intervals. They can comfortably win if that does not happen, but they have to prepare to work harder for the worst case.
May 22: Liverpool 3-1 Wolves
Déjà vu from the 2018/19 season. Wolves visited Anfield and put up a spirited performance, but Liverpool's form under Klopp at home has been outstanding, which can be the same this time too.