Bartholomew Ogbeche's 7th Minute Goal Enables the Win for Hyderabad Against Bengaluru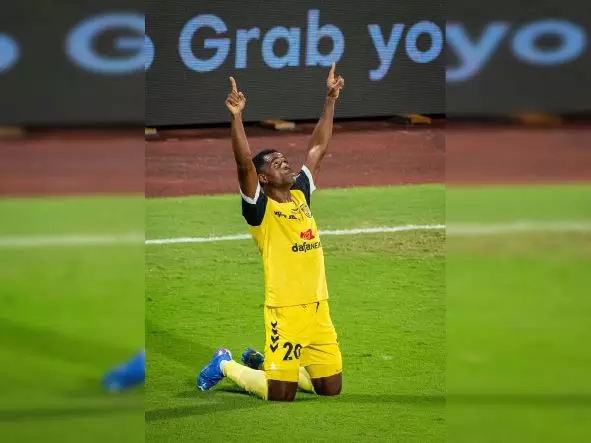 An early goal by Bartholomew Ogbeche led to Hyderabad winning against Bengaluru by 1-0 in the 2021-22 ISL season.
Under the head coach Manolo Marquez, Hyderabad introduced Javier Siveiro, Rohit Danu, Souvik Chakrabarti, and Nikhil Poojary by replacing Aniket Jadhav, Hitesh Sharma, Joel Chianese, and Mohammed Yasir.
Bengaluru team fetched only three external players while Edmund Lalrindika substituted Prince Ibara under head coach Marco Pezzaiuoli.
The Nizams were seen playing boldly from the very beginning when Akash Mishra seized the ball from Bengaluru at the 7th minute. Mishra took the ball midfield and passed it to Bartholomew Ogbeche who deflected the ball off Pratik Chaudhari and shot it right into Bengaluru's goal.
Mishra consistently forwarded the ball during the entire match and almost made a perfect set up for a second goal with Ogbeche but missed the opportunity as Gurpreet Singh Sandhu took the ball away in the 17th minute.
The Bengaluru defense seemed to be in complete disarray in the first half as Hyderabad found several opportunities to score more goals. Brilliant long ball from Ogbeche to find Siveiro with a lcrack open the Bengaluru backline went in vain as the Spanish forward failed to control the ball as his shot flashed over the goal post in the 31st minute of the match.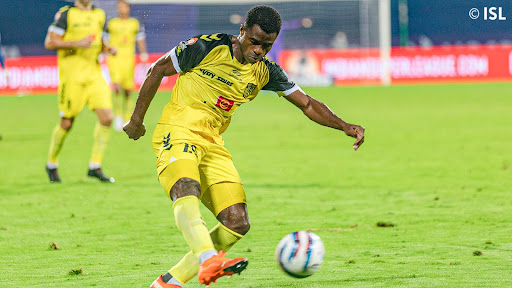 The first half of the match saw the Bengaluru defense in sixes and sevens while the potential for Hyderabad scoring more goals increased. The only time in the first half where Bengaluru was very close to a goal was when a set piece situation caused Sunil Chhetri to head a wide by Cleiton Silva.
In the second half, Bengaluru came back with new energy as the team tried hard to make up Hyderabad's goal but was unsuccessful throughout. In the 47th minute, Silva attempted to score a goal bypassing Kattimani but the Hyderabad goalkeeper successfully evaded the ball to retain the score at 1-0.
Bengaluru attempted hard to score when Hyderabad was maintaining a high line of defense. Silva once again tried to score a goal from a distance that Mishra missed to save but was ultimately caught by Kattimani from entering the goal.
Currently, Hyderabad is in the third position in the league, bagging 7 points from 4 matches. On the other hand, Bengaluru sits at the ninth position by collecting 4 points from 5 matches.
On Saturday, Bengaluru is set to play with Goa while Hyderabad plays against NorthEast United FC on Monday.