Barcelona tell Dembele he will NEVER play for them again
Barcelona has informed their talented winger Ousmane Dembele that his financial demands cannot be met and that he has probably played his last match for Barca.
That news comes from trusted journalist Gerard Romero, who has reported that the Blaugrana outfits have let the player know that the contract renewal offer has been taken off the table. Barcelona is looking for a club that is willing to buy him in January. Failing that, his contract runs out in coming June and he automatically becomes a free agent.
Barcelona takes a strong step against one of their costliest buys in recent years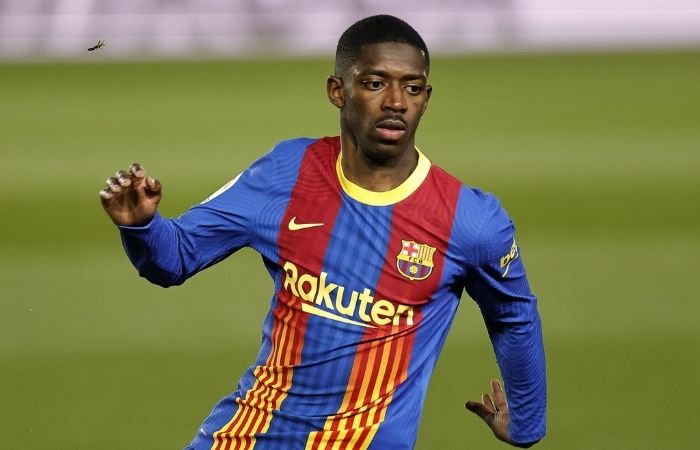 The relationship seems to have broken down and there is no way back. But such was not the situation even a few months ago. Dembele is highly rated by his club and wanted him to stay longer. With this in mind, they had tried to get the French winger to sign an extension. Barcelona manager Xavi and president Joan Laporta have been trying to get pamper Dembele by heaping praise on the Frenchman.
They were hoping that Dembele would understand how much Barca value him. They even let him know that he want him at Bar beyond 2022 and he is supposed to be a long-term investment. Although this policy seemed to have worked exactly the way Barcelona wanted. What Barcelona was not ready for was the amount Dembele would want.
During the negotiation, Barcelona got to know that Dembele was holding out for a package of 240 million euros. Apparently, Dembele asked for 40 million euros as a signing-on fee. On top of that, he wanted a contract of 40 million euros per year for the next 5 years. Barcelona was totally rebuffed by the demands. Gerard Romero, the reporter who broke the story stated that the 240 million overall figure is accurate and Dembele did ask for that, although he did point out that sum had 40 million euros in bonuses.
Dembele's perspective was that he was right to ask for that money because Barcelona was making buys worth 65 million euros (55 transfer fee upfront plus 10 million in add-ons). He thought it was unfair that he would have to take lesser wages.
Romero is now quite certain that there is no way back for Dembele. He genuinely wants that kind of salary and Barcelona are not willing to give him that enormous amount. If Barcelona doesn't get a suitor before January, 31st Dembele will leave for free in June.
All clubs have been alerted to Dembele's situation. Certain PL clubs have shown interest in signing Dembele. In other leagues, PSG and Juventus are the ones who have shown real interest and enquired about his availability in January.
Barcelona would probably want to find a club to sell before the January transfer window ends. He is immensely talented any money they can recover will be a bonus for them. Barcelona signed Ousmane Dembele from Borussia Dortmund for an initial fee of 105 million euros plus 40 million in add-ons. in add-ons. He came with a lot of promise and hype but it has not worked out for him here.
He has been injured for lengthy periods, and there have also been disciplinary issues as a result of which he was fined by Barcelona. There had been glimpses of the raw talent he possesses but that's it, only glimpses but no period of sustained form. On top of that, his behavior has made Barcelona trust him even less, and they were hoping to start again.