Barcelona open to selling three strikers ahead of the 2022/23 season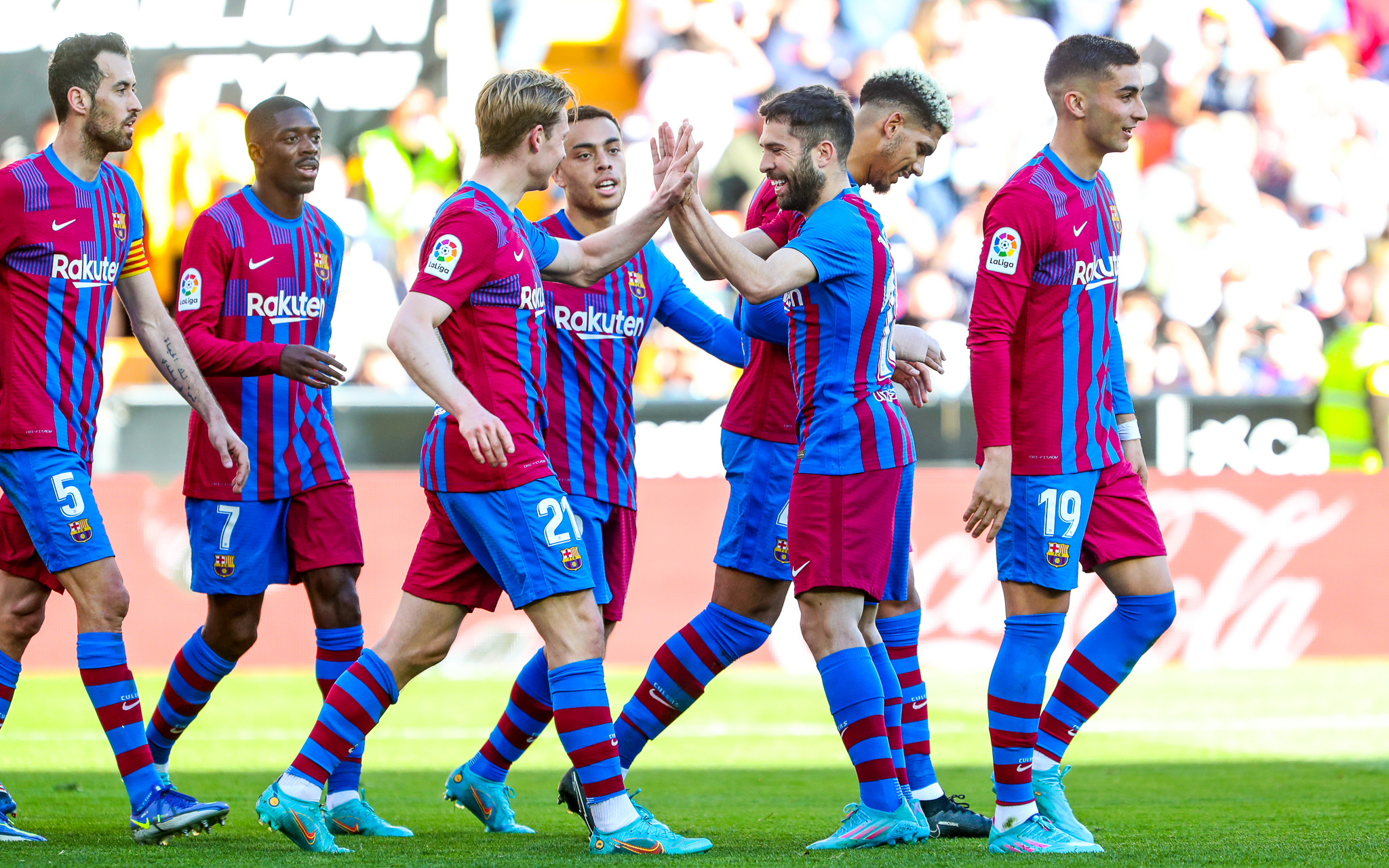 Barcelona is a resurgent side and all thanks to the manager and new signings. In January, the Catalans got hold of Pierre-Emerick Aubameyang and Ferran Torres to bolster their attack. The unexpected success of the forwards has put Barcelona in a situation where they have started reconsidering the future of other attacking players. According to Diario Sport, a decision will be made ahead of the next season.
Memphis Depay, Martin Braithwaite and Luuk de Jong are said to be the three players who are facing uncertainties at the club. All three of them have not succeeded in cementing their positions at Camp Nou, and with Xavi relying on the new arrivals who are in red-hot form, an exit might be lurking around for these three.
Barcelona is open to selling three strikers
Memphis Depay is one of the most curious names on the list despite scoring 10 league goals this season. A failed spell at Manchester United saw him move to Olympique Lyonnais, where he developed into a goalscoring striker. He completed his four-year spell there and decided not to extend his stay.
In the 2021 summer transfer window, Barcelona recruited him on a free transfer after the former manager, Ronald Koeman considered him an essential signing. He has been delivering accordingly as well. But after Aubameyang's arrival, he has fallen down the pecking order. Although it is unsure if he has a future at the club, it won't be difficult for him to find another one.
Depay is targeted by Tottenham Hotspur, who would like an alternative if their star striker Harry Kane decides to leave this summer. And Depay could get the much-needed opportunity to revive his Premier League journey.
Luuk de Jong is the other Dutch forward who joined the Catalans at the start of this season. He was targeted by Barcelona after his stellar performances with Sevilla. In August 2020, he scored the winning goal to dump Manchester United out of the Europa League. Right after this, he scored a brace as Sevilla defeated Inter Milan 3-2 in the final.
His presence when the club needed him came to be the factor that Barcelona considered in the revamp. Although it was a bright start, his performance started dipping and is now rarely considered. He is not highly rated which puts him further down the line on the list.
His future is not a worry for the Spanish side as he had joined the Catalans on a loan deal. The one year stint is set to expire at the end of the season and Barcelona can discharge him of his duties by not activating the option to buy him.
Martin Braithwaite is currently in his third season at the club and it is a question to ponder how he has stayed for so long. His first two spells have been disappointing. So disappointing that the striker had managed only eight goals in 53 appearances.
There was a turnaround in the third season and the Danish striker was off to an electric start. Just when he was getting the hang, injury spoiled his revival. Injuring his knee in September, Braithwaite was ruled out for four months. Although he was welcomed back after his recovery, he lost his spot to the new arrivals.
He hardly gets any game-time and the 30-year-old is not looking like an option in Xavi's future. With the World Cup arriving soon, he will not want to sit idle and could push for a move to secure some regular outings.
Barcelona was having a shortage of attacking players at a point this season and were struggling to adjust. As of now, they have a plethora of options available and clearing the clutter will be helpful given their financial scenario and the need of players. Joan Laporta has revealed that the club will be signing four players this summer and earning some funds from selling a few could be useful.