Aubameyang wants Ousmane Dembele to stay at Barcelona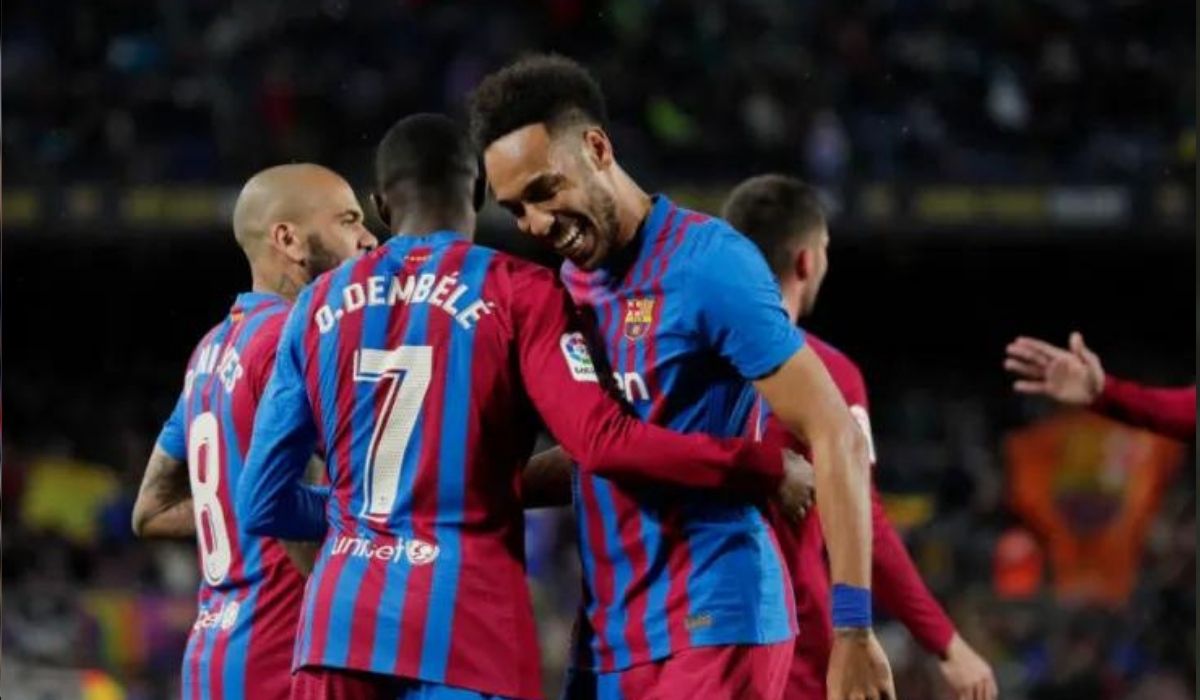 Ousmane Dembele has finally delivered his true potential after playing an enormous role at Barcelona recently. Injuries had always hampered his growth that also saw him receive plenty of hatred. However, he has bounced back stronger and has contributed immensely to the club's success. The Frenchman is yet to commit to his future and his teammate, Pierre-Emerick Aubameyang feels that Dembele has to stay at the club.
Barcelona has covered a huge gap and the whole squad deserves the credit. At the time Xavi took over as the manager, they were ninth in the league with a top-4 finish out of sight. But a brilliant run since December has delivered results beyond expectation. The Blaugranas are currently second in La Liga, level on points with Sevilla with a game in hand, and extended their winning streak to 15 last night.
It was a hard-fought win for them as they had to wait until the final minute to grab the three points. Aubameyang scored their opening goal, but it was the substitutes, Pedri and Luuk de Jong who scored the other two, with the latter scoring the winner in the added time.
Aubameyang's equalizer against Levante was also his eighth goal for the Catalans since joining them in January. Leaving Arsenal for the Spanish giants has been an incredible choice for the Gabon international as he has now scored double his tally in the Premier League this season in five lesser games. However, he feels that he is yet to reach his best and the team's performance against Levante was not up to mark.
"I think today we lowered the intensity, especially in the first half. We improved in the second half. When we play with more intensity we tend to win games and that's what's happened," he said.
"When Pedri and Gavi came on they did really well. We have confidence in the whole group but when they came on and scored it made us really happy because it was a very difficult game.
I think Ousmane knows me well, I have to always be ready when he's got the ball wide on the right. I think it is normal defenders are sticking closer to me. I didn't play well in the first half but I improved. We need to play with more intensity that's what I have to do as well."
However, the talking point remains the performance put up by Dembele. The 24-year-old has been troubled ever since he made his big-money move to Barcelona. With injuries getting the better of him every now and then, he failed to deliver his potential. This further questioned his future at the club with critics imaging him as a waste of money.
His contract is set to expire coming summer and he was heavily linked with an exit. Although there has been no update on the contract renewal, the chances of an exit can be assumed to have decreased after Xavi put his trust in him. Not only did the player repay it, but he also showed the true potential he has.
Having played only 14 league matches this season, he has already equalled Karim Benzema's assist tally of 11 and sits alongside him at the top of the assists chart. His presence is crucial for Barcelona in the future and Aubameyang also feels the same when he said 'He has to stay for sure' after getting asked about his teammate after the final whistle.
The former Borussia Dortmund pair linked up for the first goal with Dembele assisting Aubameyang. The 32-year-old forward also believes that his teammate knows him well and he can score more in his presence.
Ousmane Dembele
| | | | | | | |
| --- | --- | --- | --- | --- | --- | --- |
| Tournament | Appearances | Goals | Assists | Passing accuracy | Man of the Match | Rating |
| La Liga | 10(4) | 1 | 11 | 85.1% | 4 | 7.66 |
| Europa League | 0(5) | – | – | 87% | 1 | 6.51 |
Pierre-Emerick Aubameyang
| | | | | | | |
| --- | --- | --- | --- | --- | --- | --- |
| Tournament | Appearances | Goals | Assists | Passing accuracy | Man of the Match | Rating |
| La Liga | 7(2) | 8 | 1 | 74.1% | 2 | 7.42 |
| Champions League | 4(1) | 2 | – | 71.2% | – | 6.89 |