A Dream Signing? Real Madrid Could Land Riyad Mahrez for Free in 2023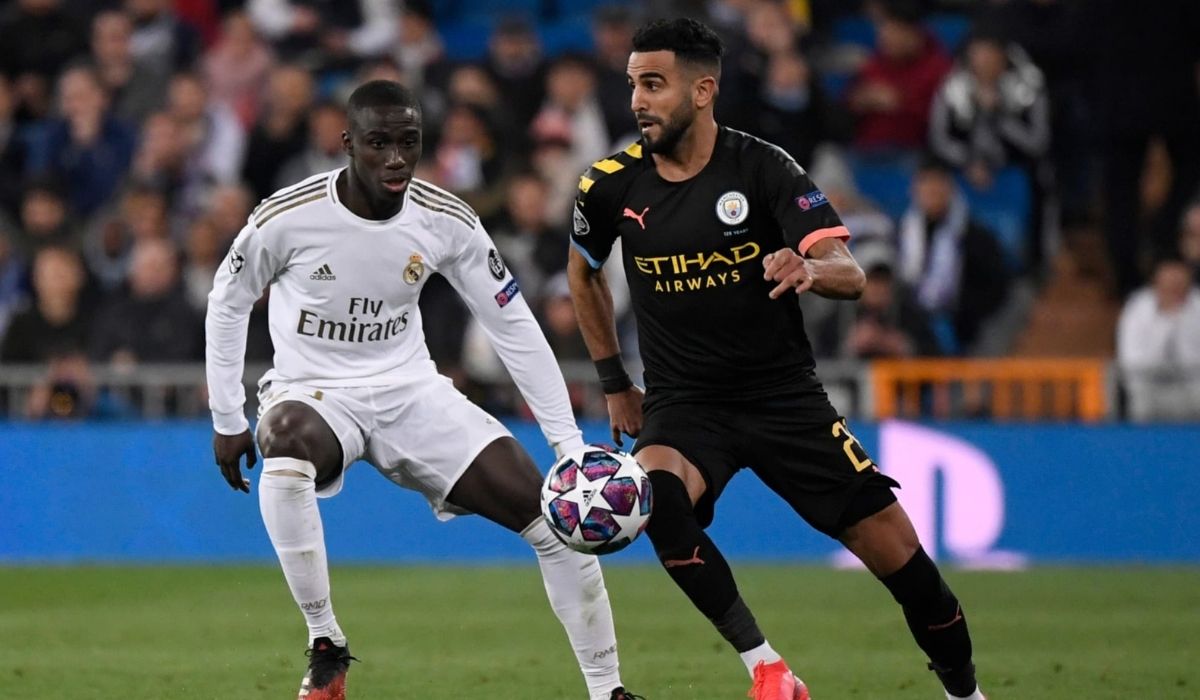 Real Madrid have made some world-class free signings over the years, but they are going to land the best one this summer in the form of Kylian Mbappe. Although nothing can top that in the near future, Real could get hold of a world-class winger for free next season. Riyad Mahrez is a talented winger whose contract is set to expire in 2023, and a transfer for him is regarded as worth plotting.
Mbappe is one of the most talented players present in the football world right now. He has been a lifelong Real Madrid fan and would never say no to an opportunity that would help him play in white. Playing for PSG since 2017, Mbappe is ready to start the dream chapter he has been waiting for since childhood.
He tried pushing for a move last year by publicly revealing his interest to join them. His main aim here was to help PSG earn some transfer fee rather than leave for free. However, the French club did not entertain this and was denied an exit last summer. They hoped to retain their star player, the chances of which are looking bleak.
The club and the President continuously tease everyone by saying that the player may stay in Paris, but there is no reason for the Frenchman to change the decision that he took long ago. Talking about free transfers, Real also snatched a great signing at the start of this season. Sergio Ramos' departure was a big one for them as they had lost an experienced player as well as a captain.
However, landing David Alba from Bayern Munich has been a great solution. The veteran has effortlessly filled the void and has provided stability to the defence along with his experience.
Riyad Mahrez Could Have a Great Role at Real Madrid
Real Madrid's recruitment system is simple. A player should either be talented, a future talent or be a free agent. They don't take unnecessary risks which is also the main reason for their prolonged success. And they might have another such opportunity available for the next season.
Manchester City's Riyad Mahrez is set to become a free agent at the end of the 2022/23 season. A contract extension can be made in the long run, but as of now, there has been no movement regarding it. And if City really considers him a crucial part of the future, they should have started working on it by now.
Mahrez has been a troublesome challenge for the opponents as his skills on the right-wing are tough to defend. Moreover, he is going extremely strong for a player aged 31. Unlike other wingers, Mahrez has taken great care of himself and there is no dip in his agility and speed. He can easily add a few more years in his tank if he maintains his run.
It is still unknown if he will be available for free in 2023, but in case he is, it will be smart for Real to pursue him as it is not often you can find a left-winger who can regularly produce double digits goals and assists. Although Real will be careful regarding the length of the deal, as they would not want to risk a player sitting injured at the club and earning a hefty salary. It could be a beneficial deal for both the parties as Real Madrid would land themselves a one of a kind winger and Mahrez could explore a new challenge before winding up his career.