5 times Cristiano Ronaldo fought with his teammates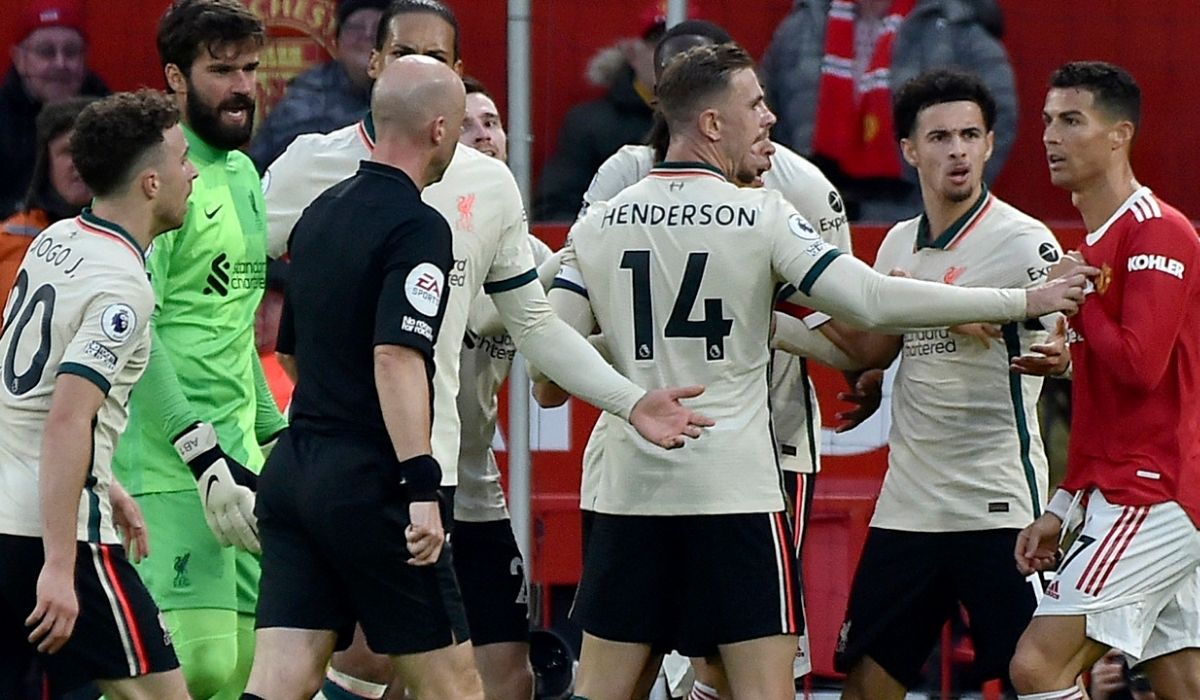 Cristiano Ronaldo is undoubtedly one of the best to bless this game. He has been on the top for almost two decades now and there is nothing slowing him down. Ronaldo became the best step by step, and his journey is decorated with accolades. There has not been a single season that he failed to win a single trophy since his debut in the top division.
The Portuguese star is a record-breaker. And it will take at least a day to discuss all the records he has broken. But a few of his recent ones cannot be left unheard. In 2021, Ronaldo broke the long-held record by Pele for the most goals ever scored and even became the first player to reach the 800 goal mark. Furthermore, he also overtook Ali Dalei's tally of 108 to become the highest-scoring international goal scorer.
The five-time Balon d'Or winner has created numerous such records which is unlikely to be ever broken. By maintaining a brilliant physique, he is looking great to carry on five more years easily. While playing a sport like a football, fights amongst teammates are usual, even if you are the best player in the world. However, they have also played a huge role in carving the player as he is today. On that note, we will be looking at five such feuds, Cristiano Ronaldo had with his teammates:
Fedrico Chiesa and Wojciech Szczesny
The time at Juventus was not a happy period for Ronaldo. Although he was their top scorer every year, he did not get along well with his teammates occasionally. He even reached the 100-goal mark with Bianconeri in just three years, a milestone which Paulo Dybala took longer to achieve despite being at the club much before.
A striker thrives on goals. It is the main thing that defines their purpose. And when they fail to do that, it often frustrates them. Such was an incident with Cristiano Ronaldo, who despite winning the match, took out the anger on someone other than himself.
Juventus defeated Genoa in 2021 by a 3-1 scoreline. This win was crucial given the fact there were fighting for a Champions League spot. Despite the successful evening, Ronaldo was not happy as he failed to get on the scoresheet. He threw his shirt at a ball boy who had asked for it after the full-time whistle. Further, in the dressing room, he started blaming Szczesny for not utilizing opportunities to generate counter-attacks and Chiesa for being selfish.
Ruud Van Nistelrooy
The Dutch star was one of the most famous names in the Manchester United squad during the early 2000s. His competition alongside some fierce strikers in the league has entertained us for many years. Moreover, his contributions to United have been crucial as they helped the club win numerous trophies.
The reason his output was brilliant was because of the incredible wingers of the time. However, it started becoming difficult after the arrival of the then most expensive teenager, Cristiano Ronaldo. Sir Alex knew he wanted him right away and he had his will done. But Nistelrooy was not finding it comfortable. Timing is crucial for a striker. He plans his move upfront according to how a player delivers it. But in the case of Ronaldo, he did plenty of showboating and showed his skills instead of simply delivering the cross. This wasn't wrong, but it was troubling the Dutch forward who could not predict when to expect the ball. The tension grew over the years and Nistelrooy lost his cool one day and ended up kicking Ronaldo. A heated argument was later sorted by Sir Alex. Ruud Van Nistelrooy later admitted his actions were wrong and took responsibility.
Ryan Giggs
Remember the famous Coca-Cola incident during the Euros where Ronaldo put the bottles aside and insisted everyone on drinking water instead of the drink? Wouldn't it be shocking if Ryan Giggs had a role in this? Like everyone, Ronaldo never had restrictions on his diet as a youngster. What he is today is moulded by all the lessons he learned from his senior players.
The former Manchester United coach and treble winner Ole Gunnar Solskjaer recited the story. During breakfast one day, Ronaldo was seen with a bottle of Coke in his hand which Giggs considered was very unprofessional. He was said to be so mad that he pinned Ronaldo against the wall for it.
An incident like this during the younger days must be enough to hate drinks forever, right? Well, Ronaldo understood what Giggs' action meant and started taking care of himself.
Juan Cuadrado
Juventus signed the Champions League expert with only one aim, winning the prestigious Champions League. Ronaldo's achievements filled them with optimism. However, three years down the line, Juventus could not achieve their dream. They never surpassed the quarter-finals stage and succumbed before that round.
In the 2020/21 season, Juventus were knocked out by FC Porto in the round of 16. After that loss, Ronaldo was completely crushed by the exit. In the dressing room, he let out his frustrations by throwing his shirt on the floor and saying, "We have to work harder. We didn't play at all! We played sh** always!"
While most of his teammates silently listened to what he was saying, Juan Cuadrado did not like his outburst. He told him to calm down and reminded him that he was a role model to everyone at the club. Ronaldo later included himself in the group that played badly. He left the club in summer 2021 and Juventus remains the only top-5 division club that Ronaldo has failed to win the Champions League with.
Wayne Rooney
The deadly partnership of Ronaldo and Rooney will always be fathomed. This was a duo that had struck fear in every opponent's defence. Their contributions helped Manchester United win the Premier League title three years in a row along with a Champions League. Ronaldo even considers Rooney as one of his favorite teammates. However, one such incident which we are well aware of had threatened these memories to never exist. 
The 2006 FIFA World Cup was an eventful one. The same tournament where Zinadine Zidane delivered the headbutt to Marco Materazzi also saw a heated clash between Portugal and England in the quarter-finals. During the match, Rooney had an intense battle with Portugal's Ricardo Caravalho which ended with the English striker receiving a red card for it. Before that, Ronaldo was pushing the referee to issue the card and winked at Rooney after the decision which was what started the feud between the two.
The backlash from the fans in England was so intense that Cristiano Ronaldo was on the verge of quitting Manchester United. Once again, the manager got involved along with Wayne Rooney who convinced him to stay at the club.