Wriddhiman Saha controversy: Journalist neither apologized nor got in touch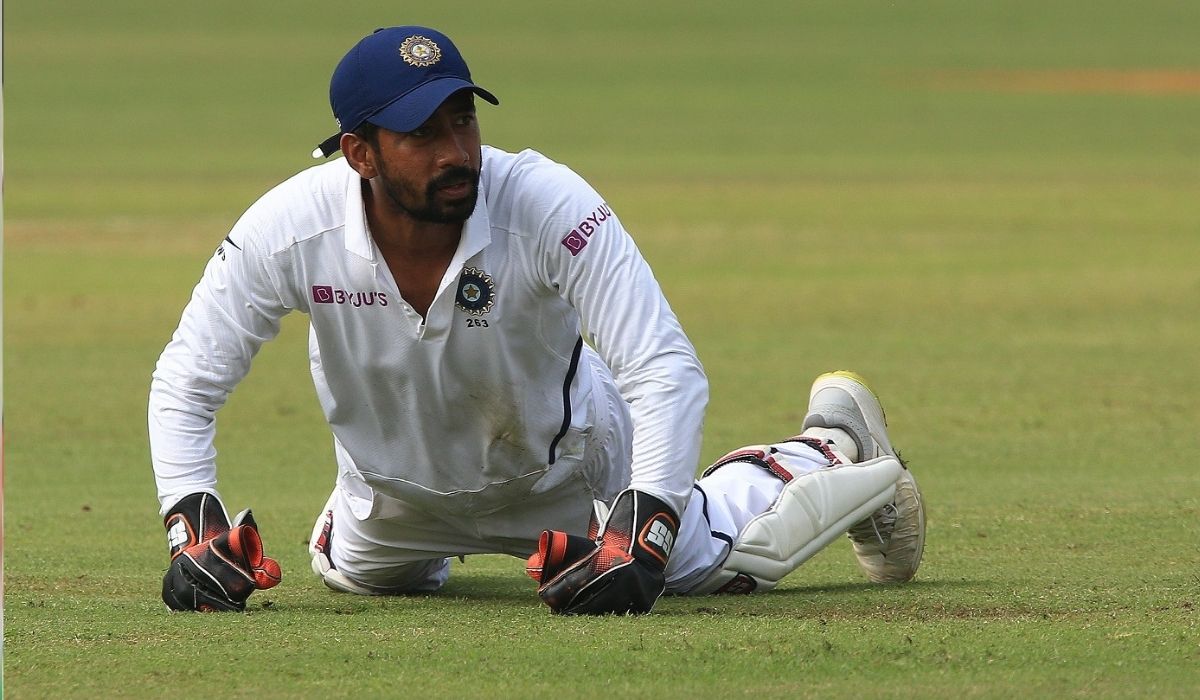 Wriddhiman Saha has said that the journalist, who had threatened him to give him an interview, hasn't got in touch with the keeper yet after their conversation went viral on social media.
Talking to Zee News on Wednesday, Saha said that he was hurt by the behaviour of the journalist but he has refused to name him. The keeper added that he wanted to expose that chat so that people will come to know that the journalism world has such people too.
"I am hurt with the message of the journalist. Neither have I ever behaved badly with any journalist nor have they misbehaved with me. But this was uncalled for. I wanted to expose him so that people know that the world of journalism has such people," Saha said
"The said journalist has neither got in touch with me nor has he apologized," Saha added.
"BCCI are investigating the matter"
Saha revealed that the Board got in touch with him right after the tweet, and he will cooperate with them. However, he is not ready to reveal the name of the journalist.
"After my tweet, BCCI has got in touch with me through email and through the phone. They are investigating the matter. I will cooperate with them.
"I don't want to reveal his identity because these are my morals and I live by principles. Meanwhile, I always feel that I should give someone a second chance. This is the second chance that I want to give him for the time being," he said.
The BCCI has recently announced three officials to investigate the chat and its aftermath.
Wriddhiman Saha controversy
Last week, when Saha was left out of the India squad for the two-match Test series against Sri Lanka, a journalist apparently threatened him to give an interview. Saha took to social media to share the shocking chat conversation. 
"After all of my contributions to Indian cricket..this is what I face from a so-called "Respected" journalist! This is where the journalism has gone". he captioned the tweet.
The tweet got viral on social media with former cricketers and fans standing by Saha. The people wanted him to share the name of the journalist but Saha refrained from doing so. He even took to Twitter to add the reason why he didn't want to name him.
In a long Twitter thread, Saha said that he wanted to show the chat to the world but not his/her name.
"I was hurt and offended. I thought not to tolerate such kind of behaviour and didn't want anyone to go through these kind of bullying. Then I decided I will go out and expose the chat in public eye, but not his/her name", he tweeted.
He also added that if it happens again, he will not hold back from naming the journalist. "My nature isnt such that I will harm anyone to the extent of ending someone's career. So on grounds of humanity looking at his/her family, I am not exposing the name for the time being. But if any such repetition happens, I will not hold back," he said in his second tweet.
He also thanked everyone for their support. "I thank each and everyone who has shown support and extended their willingness to help. My gratitude", he concluded the Twitter thread.
"I'm not considering retirement at the moment"
During the interview with Zee News, he also clarified that he is not looking to retire anytime soon and was hurt and shocked when he got omitted since he had performed well against New Zealand. He also added that he will be playing domestic cricket and the IPL for the upcoming season. Saha will be playing for Gujarat Titans this year.
"I am not considering retirement at the moment. I am going to play IPL and other matches in the domestic cricket. Am shocked and hurt for being dropped for the next two Test series against Sri Lanka. The way I played in the last match against New Zealand, I had expected that I will be in the team. But it seems that the selection committee had already made up their mind and decided to drop me," he said.