Watch: Deepti Sharma dismisses Charlie Dean by mankading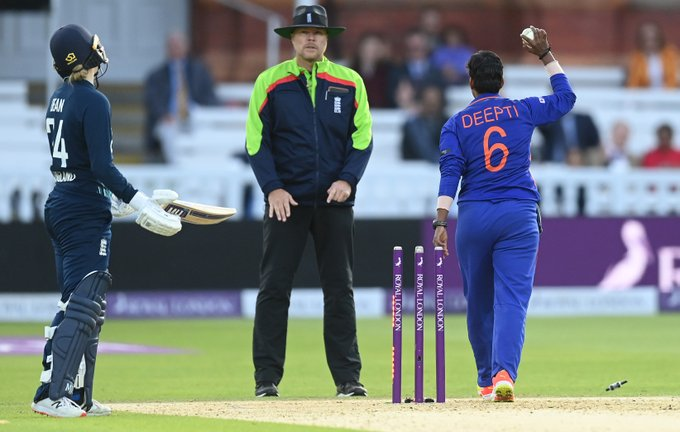 Indian spinner Deepti Sharma dismissed England batter, Charlie Dean, by running her out at the non-strikers' end.
Indian team bowled well to remove the top-order of England team with ease. However, they had trouble in dismissing Charlie Dean who was batting on 49. Deepti Sharma was supposed to bowl the new over.
Deepti, however, ended the match by dismissing Charlie Dean at the non-strikers' end to win the match.
Dean was left out in tears and was not ready to affect the defeat.
Here is the video:
India batted first and managed only 169. The team lost early wickets and found themselves at deep trouble. Smriti Mandhana and Deepti Sharma then joined hands and stabilized the innings.
Mandhana got out after making a half-century. Sharma, on the other hand, stood undefeated at 68.
She returned to bowl in the middle order and didn't wait for long to dismiss Dean. She ran in, mankaded Dean and helped India to win the series.