South Africa vs India 2nd Test: Sunil Gavaskar unimpressed on KL Rahul's captaincy and Elgar's playing style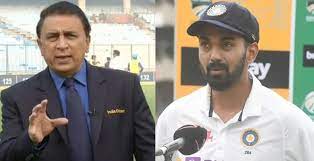 After losing the first test, the hosts South Africa made a stellar comeback in the second Test match of the ICC World Test Championship series and defeated India in Johannesburg. South Africa gave a tough fight and courageously chased down the 240 runs target in the second innings. With skipper Dean Elgar guidance and perfect teamwork, South Africa witnessed a memorable win against the current No.1 team in Test cricket.
In the match's first innings, India scored 202 runs while South Africa scored 229 runs. For the second innings, India scored 266 runs and put 240 runs on target that Africans successfully achieved.
Captain Elgar's unbeaten 96 runs and other players' gutsy batting helped South Africa level the series by 1-1. Along with praising Elgar for his brilliant innings, the legendary Indian cricketer Sunil Gavaskar also questioned KL Rahul's captaincy decisions that brought easy runs for the rivals.
Talking about the field placements, Gavaskar pointed out that when Elgar was taking singles and rotating the strike, Rahul had placed two fielders in the deep, which was wrong.
Rahul didn't position the fielders correctly as Elgar is not a hooker of the ball, said Sunil Gavaskar.
He further added that this was India's first Test match loss in which Virat Kohli is not captaining. I believe that KL Rahul made Elgar's life a bit easy by allowing him to score a few easy singles at the second innings' beginning. Elgar is not a ball's hooker, and it was a senseless decision to place two fielders in the deep as he was comfortably taking singles and pocketing runs.
The Indian batter also spoke about India's not so strong performance in the fielding that led to the South Africans' victory.
According to Gavaskar's statement, it would have been great if the fielding of team India was a bit better and sharper. He also thinks that Indians didn't lose the game; instead, South Africans won the match.
The last test of the series will be held at the Newlands ground in Cape Town from January 11, 2022.