Rohit Sharma admits mental health struggles after Kohli's revelation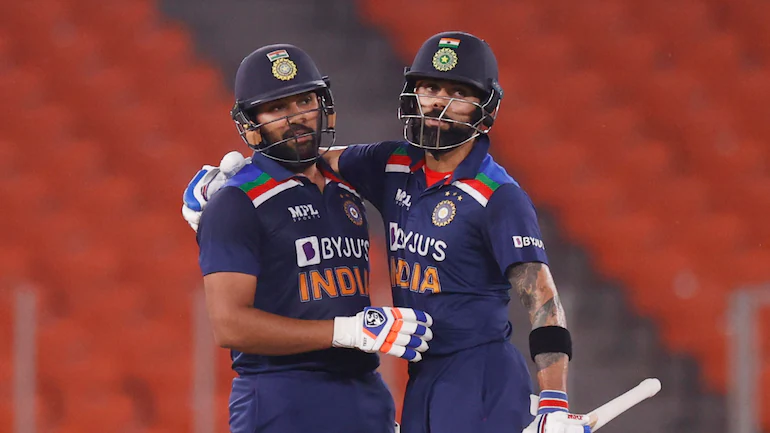 Rohit Sharma joined Virat Kohli in addressing the mental health struggles in recent times. He admitted that the recent pandemic has impacted everyone's life and it has been hard for them.
"We do talk about these kinds of things a lot. Since COVID has struck, it has been difficult for players, not just Virat. Everyone has gone through a hard time, staying in bubbles and not being able to go outside hotel rooms. Guys find it difficult, staying inside rooms, quarantine and all, was not easy. Every player has a way to respond to that. There is constant talk about how the players are mentally and what they think about the game and how we can keep them fresh. Mentally you need to be fresh, you would not be able to compete if you are not mentally fresh."
Virat Kohli recently spoke to Star Sports India where he mentioned how he had to fake intensity and how it has been hard for him in recent times. The former Indian captain took a month's break and will return to the India squad for the first time since July. Kohli said that he didn't pick up his bat during the break for the first time in the past ten years.
Virat is looking in good touch: Rohit Sharma
Kohli is yet to get to an international century since 2019. All eyes will be on him on Sunday as he will play against the arch-rivals Pakistan. Talking about Kohli's current form, Rohit Sharma said that he has been in a good touch and would be raring to go.
"From what I have seen, Virat is looking in good touch, he is working hard on his batting. It is not looking like he is thinking about things a lot. There are no extra-ordinary changes. He is coming back after one month, there is freshness that we can spot. He is looking in good touch, we try to give everyone a chance to prepare to the best of their ability. Preparation wise, we have put our best foot forward," he added.
Rohit Sharma also mentioned in the press conference that everyone will get good opportunity going into the T20 World Cup.
"Everyone wants to start the tournament on a high and everyone is looking forward to it. All 15 are here, they are all in the mix. That's why they are here because they have produced results. Everyone stands a chance to represent, we are not somebody who will close doors on individuals and we do not want to do that. We want to see how individuals respond to certain situations that have been put by the team management to them," he concluded.