PCB's handling of Shaheen's injury is criminal: Hafeez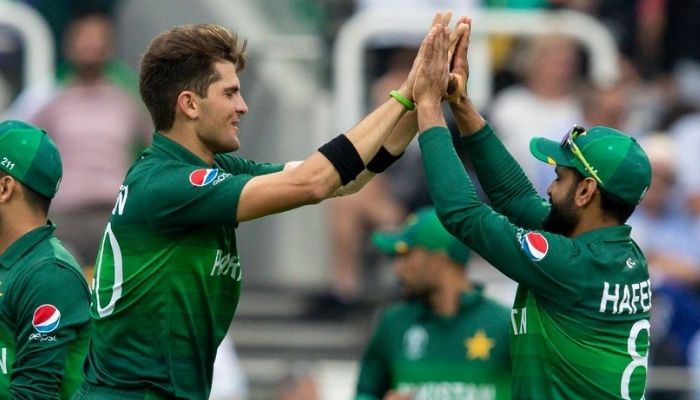 Former Pakistan all-rounder Mohammad Hafeez has criticised the Pakistan Cricket Board for the way they handled the injury of Shaheen Shah Afridi.
The Pakistan pacer who injured his knee during the first Test of the Sri Lanka tour at Galle. Since then, he has been out of the squad but was travelling with them. Afridi was even seen in the Asia Cup alongside the team. He was in attendance for Pakistan's clash against their arch-rivals India. The latter went on to win the thrilling encounter by 5 wickets.
Now, months after his injury, Pakistan Cricket Board has decided to send him to the England for better treatment.
In a statement announced by the Board, they said that Afridi was sent to England for long rest and he is expected to get fit before the T20 World Cup.
The way he has been treated has received flak from several cricketers and Hafeez is the recent player to talk about it.
Speaking on PTV Sports, Hafeez called his Pakistan and Lahore Qalandars team-mate Afridi "not just a Pakistani product, but an asset for the world".
"This is a criminal act"
"It pains me how Shaheen's affair has been handled," Hafeez said. "He is being groomed, and the whole world wants to watch him, so we need to look after him in the right way. Since the PCB announcement [that Shaheen was being sent to London for specialist treatment], it was clear that Shaheen had been injured for several weeks, and that time has been wasted. This is a criminal act.
He also said that the treatment should've been straight away rather than waiting for all these while.
"He's gone to England now, but why couldn't this decision have been made eight weeks ago? The diagnosis should have been made straightaway, and he should have been sent for the best rehab immediately. The fact he needs to be sent abroad for treatment is unfortunate in its own right, because we in Pakistan have been unable to upgrade our own medical facilities."