It's tough not being India regular: Sanju Samson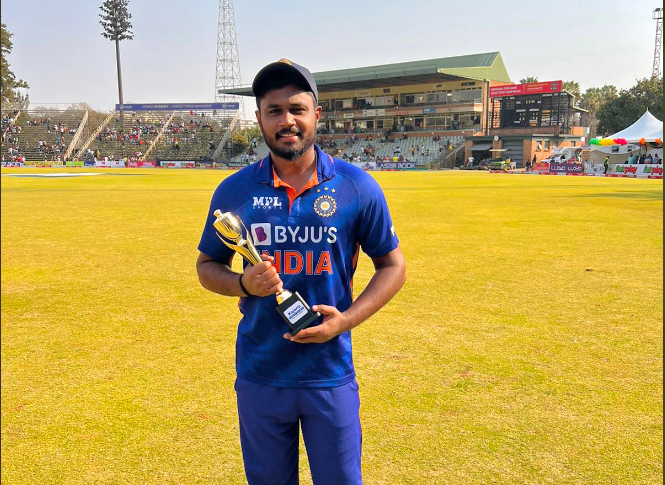 Indian wicket-keeper Sanju Samson said that it is tough for him to remain on the sidelines throughout his international career despite performing his role well. He added that he prefers to remain positive.
Samson is one of the players to be in and out of the Indian squad for a while now. Samson's international career began in 2015 when he made his T20I debut against Zimbabwe. However, he has appeared only in 7 ODIs and 16 T20Is so far.
Recently, he got to tour alongside the second-string Indian team that went on to defeat Ireland, West Indies and Zimbabwe. Samson batted in the middle order and provided good support for the Indian team. Despite his good numbers, he wasn't picked for the Asia Cup and will make a way for Rishabh Pant.
Talking about not being a regular in the side, Samson said that he takes everything in a positive manner.
"I am a believer that whatever you go through in your career, you have to take it in a positive manner," Samson told the official broadcasters of the India-Zimbabwe ODI series.
"It's very tough"
He also added that it is tough when he sees all his friends are playing but he is sitting out.
"It's very tough, it definitely gets into your head when you know that all your friends are playing and you're not," Samson said.
Samson also added that he is surprised by the fan following he has in the country.
"I feel surprised (on his fan following) that despite playing very little for India, I get good support." Samson.
Samson was the player of the match in the ODI against Zimbabwe. He helped the team to chase down 162 with an unbeaten 43. He was also named as the player of the match for the knock.
Samson came in at number six and smashed four sixes and three boundaries for his knock.
"I feel there are a lot of Malayalis (in the crowd) as I hear cheers of 'Chetta Chetta' (elder brother) which make me feel proud," he said.
Having led Rajasthan Royals to their second final in the IPL history this year, Samson credited domestic cricket for his growth as a player.
"I really enjoyed playing domestic cricket for the last four-five years. It is challenging to do well there and that has made me a better player.
Samson was one of the top scorers in the recently concluded IPL. Talking about his stint with Rajasthan Royals, he said that the captaincy has helped him a lot.
"It (IPL) has changed my perspective towards cricket. Earlier I used to think only about my batting, my game. Captaincy helps bring about a different mindset — think about others as well apart from your game," he concluded.