Why Rishi Dhawan was wearing a mask against CSK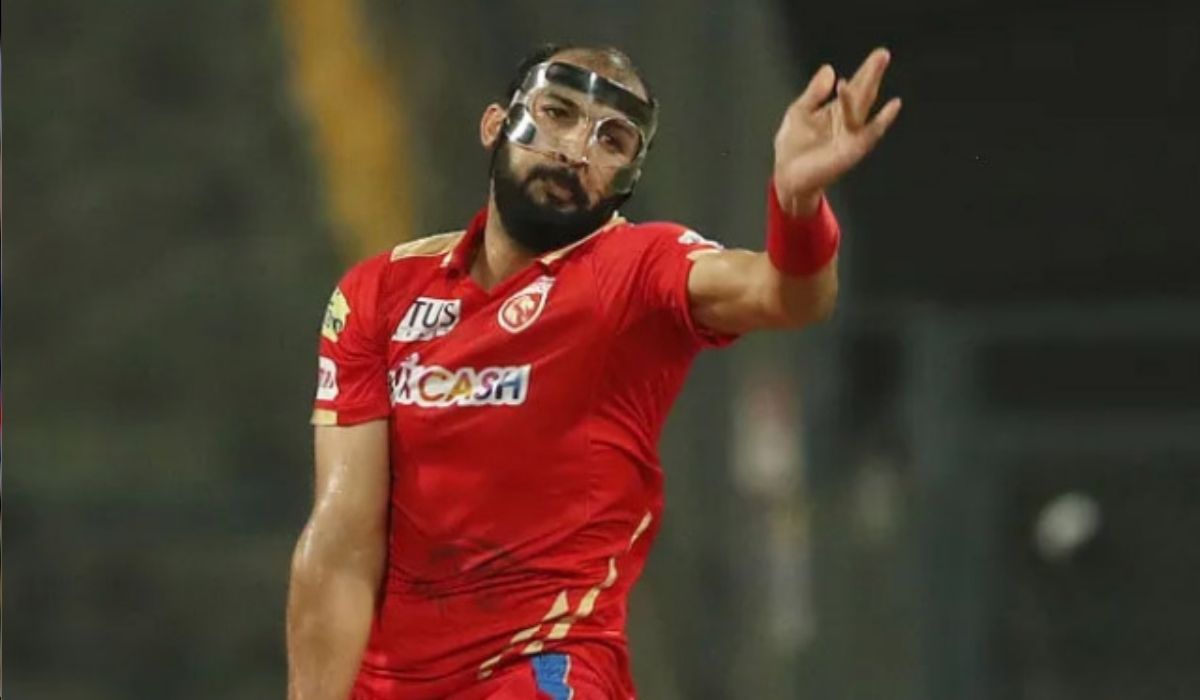 Rishi Dhawan played his first game in the IPL in six years on Monday. His IPL 2022 debut grabbed a lot of eyes as he became the first player to bowl with protective gear.
While he became a meme fest on social media, the fans were equally curious to know the reason behind the protective gears he was wearing.
However, later after the match, the all-rounder confirmed that he suffered a head injury during the Ranji Trophy.
The Himachal Pradesh captain was hit on his face during his followthrough while bowling in the Ranji Trophy and he had to undergo a nose surgery because of the same. The surgery kept him out of action for months and that meant he wasn't available for the first four matches for Punjab Kings.
Talking to the Punjab Kings website, Rishi Dhawan said that he was disheartened to pick up an injury right before the IPL.
"I was making an (IPL) comeback after four years, so I was disheartened when I got injured in the Ranji Trophy," he said to the Punjab Kings.
Rishi Dhawan had a good IPL 2022 debut as he went on to defend 27 runs in the final over. He was bowling to MS Dhoni, and in the first delivery, the latter took him for a six, but Dhawan came back stronger and launched a slower delivery that caught the bottom edge of MS Dhoni and landed in the hands of the deep mid-wicket.
Punjab Kings managed to win by 11 runs as CSK made only 176 in their 20 over. Earlier, Shikhar Dhawan demolished CSK bowlers as he made 88* from 59 deliveries. He had the support of Bhanuka Rajapaksa who had 42. They helped the team to reach 187 in their 20 overs.
This is not the first time a cricketer opted for protective gear while bowling.
In 2017, Otago Volts cricketer Warren Barnes opted for a specially designed gear that he had himself designed with the help of his coach. It was a mix between a baseball visor and a track cyclist's helmet. During an interview, Barnes said that he had to wear one as he kept falling during his followthrough and tended to drop his head on the release of the ball.
According to the records, he was the first men's cricketer to wear protective gear while bowling.
In 2019, Andrew Ellis sported a customized helmet while bowling. Ellis was seen sporting a helmet seen more common in baseball than cricket on the field in the match between Canterbury and Northern Districts in a Ford Trophy match back in 2019.
He opted for a helmet as in 2018, he was hit on the head by a shot from Jeet Raval.
Ellis, who has played 15 one-day internationals and five Twenty20 internationals for New Zealand, was quoted by stuff.co.nz saying, "For guys like me who tend to bowl at the death and try to bowl yorkers, it's probably a prudent move. I think it's a wider discussion for New Zealand Cricket and the Players Association to be proactive about things."