I had nothing to lose: Daniel Sams on defending 9 runs against Titans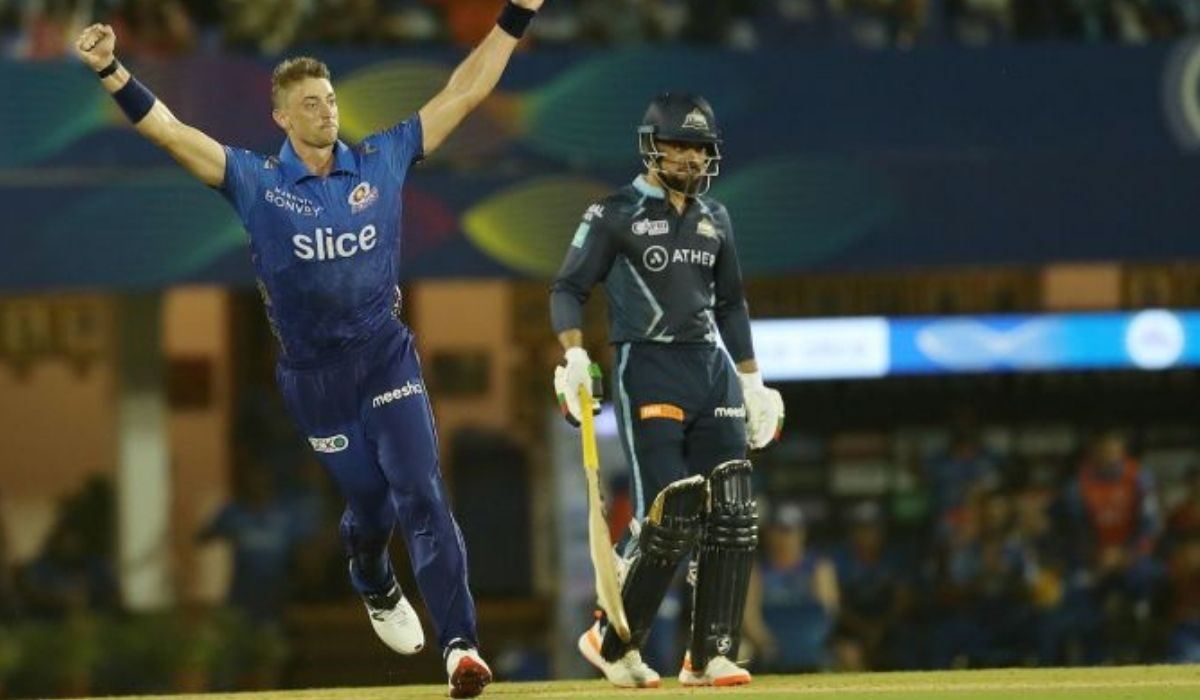 Exactly a month ago, Daniel Sams faced the pain as Pat Cummins ripped him as well as Mumbai Indians apart as he smashed him for 35 runs per over en route to his joint-fastest IPLL fifty off 14 deliveries and snatched the victory from the throat of Mumbai Indians.
After his match, Sams had to warm the bench for a couple of weeks. In the span of seven days, Sams had helped Mumbai Indians to pick up two wins in a row now.
Earlier, Mumbai Indians needed four runs from five deliveries when Daniel Sams came out to bat against Rajasthan Royals. Sams smashed a six in his first delivery to take the team home for their 1st ever win in IPL 2022. On Friday, his role was a bit different and this time, he had to save nine runs off the final over.
To make the scenario worse, he had two of the best finishers of IPL 2022 at the crease. Rahul Tewatia and David Miller have won more matches than anyone else this season. While both were at the crease, Sams had to keep it tight and he held his nerves pretty well and helped Mumbai Indians to pick up back to back victories. Daniel Sams finished with figures of 3-0-18-0 including 3 runs off the final over.
Talking to the media after the sensational win, Daniel Sams said that it is time for MI to show the world what they are capable of. Though the team is virtually out of the tournament, they can still decide the fate of others.
"We did not have the start we wanted, after the 8 losses, we looked at as a mini-IPL with 6 games. We are trying to show what we can do and were able to pull it off which helps our confidence," Sams told Star Sports.
He added that the match would've been an entertainer for the fans to watch. He also mentioned that with just nine runs to save, it was batters' game to lose.
"It is awesome that we got over the line, it went back and forward. Must have been great for the fans to watch. 9 off 6 made me feel I have nothing to lose and the odds are in the batter's favour," Sams said.
Sams bowled six slower deliveries and gave nothing to the batters. "I got a few wide balls in the tramline and managed to execute it well. My intent was to stick to the best balls I could bowl, the slower one is the ball I go back to and it paid off", he said.
"There's been a couple of games where I've bowled a few wides in a row, but that's one of the things we talk about and we're happy to commit to it. Sometimes it might not go our way but more times than not, it will go our way. That's one of the things I push on the side and focus on the ball I'm trying to execute," he added.
'Nerves were there earlier on in the tournament'
Sams added that there were some nerves early in the tournament and for the past two matches, he haven't been too nervous and is committing to the plans they have.
I guess in the last two games I haven't been too nervous, I've been calm," he said. "Nerves were there earlier on in the tournament. But being able to have the time to focus on and reflect what I do really well [when he was left out] have been able to help me in these last few games. If I am committing to the plans we have and if it doesn't go out way. I can live with that. That helps with the nerves, committing to what you plan to execute," he said.
Despite being one of the successful performers in the Big Bash League, Sams couldn't really make a name for himself in the IPL so far. He was with Delhi Capitals and Royal Challengers Bangalore earlier but in Mumbai Indians, he was given the main job of opening the bowling consistently. Though he had picked up seven wickets, Sams has been expensive but is constantly looking to improve.