Hardik Pandya has been brilliant for us: Rohit Sharma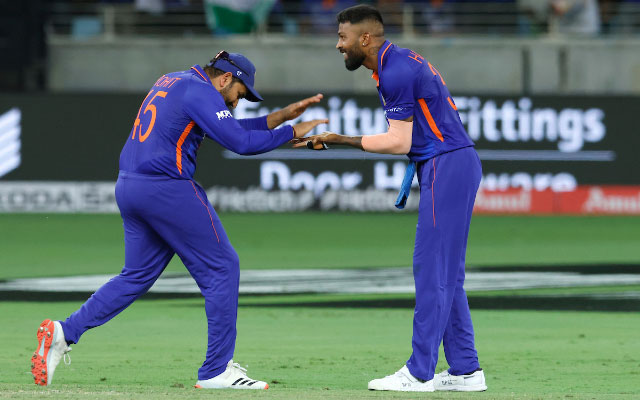 Indian team pulled off a thrilling win over Pakistan in their 1st match of the Asia Cup 2022. The defending champion began their campaign well by taking down their arch-rivals by five wickets.
The Indian bowling attack led by Bhuvneshwar Kumar helped the team to restrict Pakistan to 147. Bhuvneshwar began well by dismissing Babar Azam early. Hardik Pandya then joined by taking down three of the batters. Bhuvneshwar, with the help of other bowlers, finished off the things. The pacer returned with four scalps on Sunday.
Talking about the bowling attack and how well the team did, captain Rohit Sharma said that the bowlers have done well over the last few months.
"The bowlers are getting better over the last few months. It's about giving them the confidence to deliver what they are expected to do. Yes, they were challenged a bit but overcoming them will give them confidence," he said.
In the second innings, India struggled initially after losing KL Rahul for a golden duck. While Rohit Sharma and Virat Kohli tried their best to keep the scorecard ticking, the required run rate was on the rise as well.
When they got out, and when India found themselves at 89/4 in the 15th over, the team turned to Hardik Pandya to do the job. The all-rounder took his team initially and along with Ravindra Jadeja, helped the team to cross the line. He smashed a six off Mohammad Nawaz in the final over to take the victory.
"He was calm in taking the game through"
Rohit Sharma was all praise for the way Pandya has improved in the past couple of years.
"Hardik Pandya since he has made his comeback has been brilliant. He had a great Ipl. When he was out of the team, he got into a fitness regimen, figured out what he had to do with his body, hits 140 kmph now, and has been brilliant for us," he said.
The Indian captain addressed that Pandya has been a lot calmer since his return and knows what he must be doing to get wins.
"He has been a lot calmer, quite confident youngster, knows what he wants to do. He knows what sort of fields he wants. Very confident. Can bowl quick – the bouncers he bowled today. It's about understanding the game -and he does that now. He was calm in taking the team through. High-pressure game, 10 runs per over, and there are times when one could panic but he didn't," he added.
"I would take wins like this rather than one-sided wins"
Sharma also added that he would take close wins rather than one-sided matches.
"We knew that belief was always there in our group. No matter what the situation is we can pull it off. These things can happen often in the game. We can pull off games like that. We believe in the quality of players. We want to give enough clarity to what they can do in middle. It was challenging but I would take wins like this rather than one-sided wins," he said.