Had given warning: Deepti Sharma about Dean's dismissal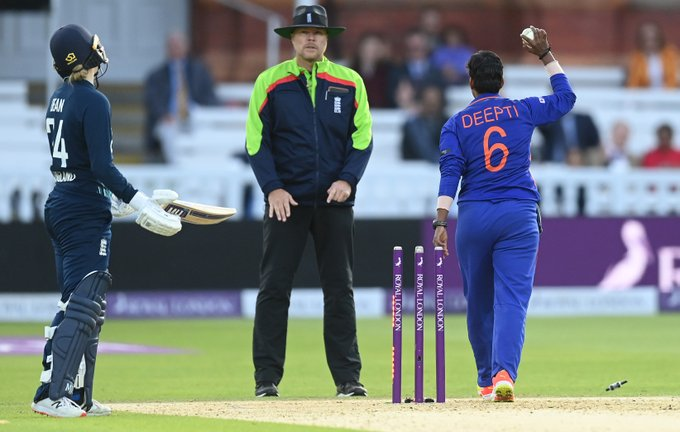 Deepti Sharma has recently opened up about her action at the non-strikers' end to dismiss Charlie Dean. She said that team had warned the Dean multiple times but she kept leaving the crease. Deepti added that she had even informed umpires about it.
India and England engaged in a low-scoring battle at the Lords' which also marked the final ODI of Jhulan Goswami. According to Deepti Sharma, the team was more focussed to give the Indian legend a farewell. She added that Dean was repeatedly leaving the crease and they had already warned her too.
"It was our plan because she was leaving the crease repeatedly. We have even warned her. So, whatever we did was according to the rules and regulations," Deepti Sharma said. "We had told the umpires too. But she was still doing it, so we had no other option."
When the incident happened, Charlie Dean was closing in on her 1st international half-century and the team was just 17 runs away from the historic win.
I don't think it was any crime: Harmanpreet Kaur
India women's team captain Harmanpreet Kaur in the post-match presentation and press conference had said that her side had committed "no crime."
"Today whatever we have done I don't think it was any crime," Harmanpreet said at the post-match press conference.
"It is part of the game and it is an ICC rule and I think we just need to back our player. I'm actually very happy she was aware of that, and the batter she is taking too long a stride I think. I don't think she has done something wrong and we just need to back her."
"Well, to be honest I thought you will ask about the nine wickets which was not easy to take as well. It's part of the game. I don't think we have done something new. It shows your awareness, what batters are doing," Harmanpreet said.
"I will back my players, she hasn't done something outside the rules. After the first game we discussed, we wanted to do really well, we have that much potential. We want to continue this kind of cricket."