David Warner shares glimpse of Shane Warne Stand at MCG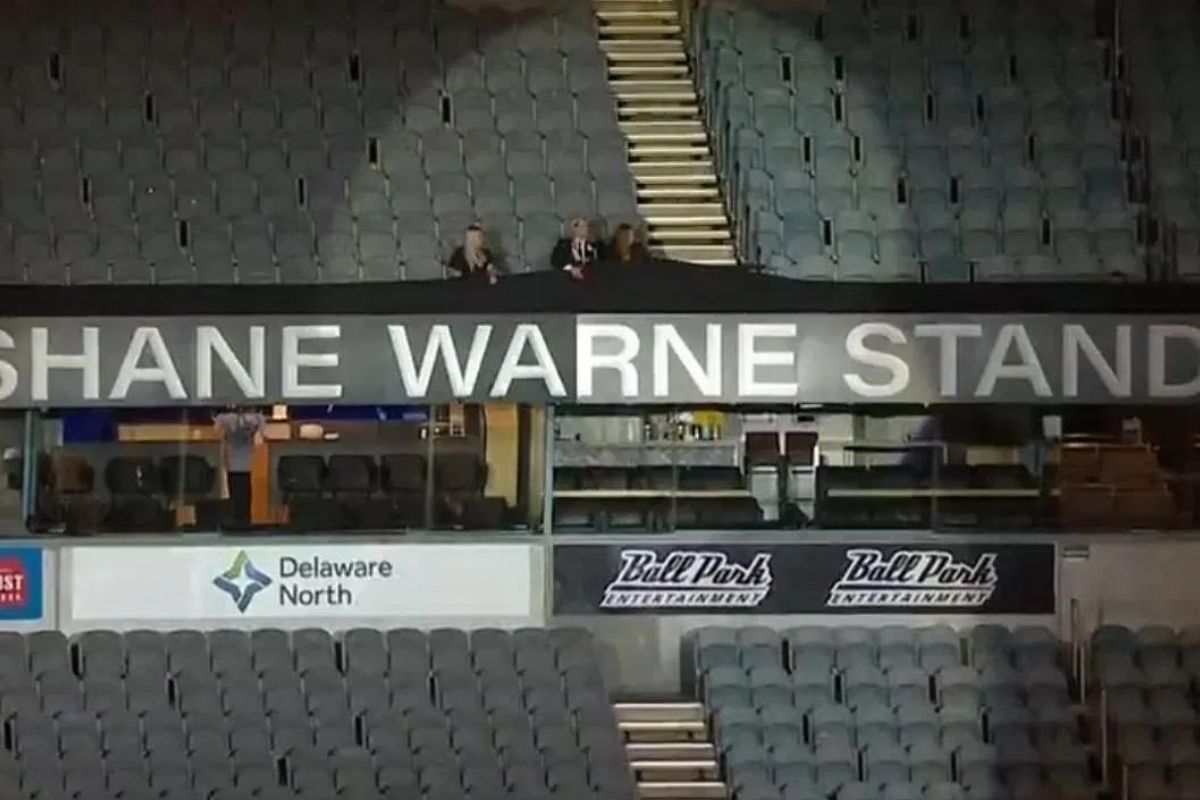 David Warner has Australian opener David Warner had shared a glimpse of Shane Warne Stand at Melbourne Cricket Ground as the opener paid tribute to the late spinner who bid farewell at the state memorial service in Melbourne on Thursday.
The legendary spinner had passed away at a resort in Thailand during his vacation along with his friends. According to the doctor's report, the legend had suffered a heart attack and had passed away. He was 52.
While he had passed away three weeks ago, the Australian Government and Cricket Australia had asked the family's permission for a State Memorial Service and Cricket Australia had renamed one of the Melbourne Stands to Shane Warne Stand.
The event which took on Thursday saw many stars from different countries turn up for the legendary spinners' memorial service. Many opponents including England's Nasser Hussain went on to share many stories about his time with Warne.
Many fans also turned up wearing his cricket outfits and dressed like Warne.
Meanwhile, Australian opener Warner had returned to Australia from Pakistan to be there for Warne's last rites. Warner had played the Test series against Pakistan in Australia's historic tour to the country. After the series, Warner had returned home and as promised earlier, he had attended his childhood hero's last rites.
Warner shared a picture of the Stand and captioned it: "RIP king, you will never ever be forgotten #king".
Earlier, talking about his childhood hero, Warner said that he didn't believe it initially and thought it was some kind of prank.
"It still hasn't really sunk in. When we first found out, we thought it was a joke," said Warner ahead of the second Test.
When he was asked whether he would attend the service, Warner said that he would definitely turn up to pay his respect.
"I will be there, 100 per cent. It's definitely going to be extremely emotional for everyone. There will be lots of people paying their respects. You just look at the tributes from around the world — he has touched millions and millions of people, and from different countries," he added.
Everyone was just absolutely gobsmacked
During Shane Warne's memorial tribute, Warner shared how devastated the Australian cricketers were when they heard about Warne's passing.
"I found out from James (Erskine) after everyone from his family was notified," Warner said on Fox Cricket's Shane Warne tribute special.
"Just before it got out we spoke to the guys and we were in the bus ready to come back to the hotel.
"Everyone was just absolutely gobsmacked. There was silence in the cars and we came back", Warner revealed.
Adding more, he said that it was like losing something who has been a part of the family.
"It is just like anyone that you lose it is just like part of your family. You look at the tributes that are coming out around the world we raised a glass and shared some great memories and stories about Shane and what he did for cricket and world cricket in general," he said.
Warner also opened up about how Warne always stood by his side and how knowledgeable he was.
"I was in a privileged position of learning from Warnie being around the group and in the commentary box just the knowledge he had of the game," Warner said.
"Nothing would be happening out in the middle and he would say a few things to a couple of us and we would implement that the next day or in the next game and things just panned out and worked.
"He just knew the game so well. He was loved by every single person in the world that knows the game of cricket and people that don't know the game of cricket.
"I just can't believe he is gone."