Cheteshwar Pujara Calmly Addresses Challenging Questions Thrown at a Press Conference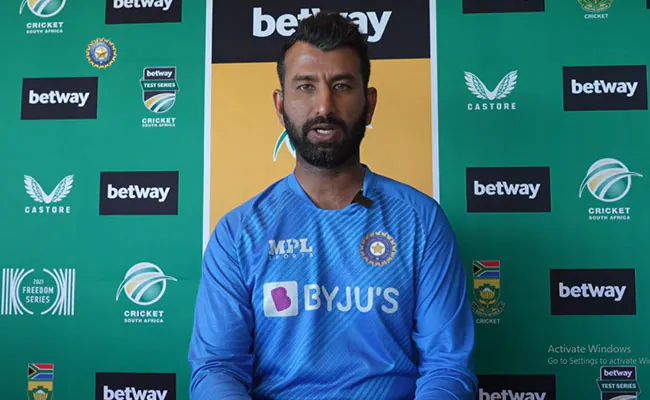 A recent press conference proved Cheteshwar Pujara to be a collected and composed man with nerves of steel. The 33-year-old player does not collapse under stress, neither when tackling attacking fastballs in challenging conditions nor when facing queries regarding his recent poor performances, despite constantly being reminded of the uncertainty of his place in the team.
On Wednesday, Pujara showed his remarkable ability to perform on and off the field. The right-handed batter smashed a fifty on Day 3 of the second Test against the Proteas in Johannesburg and later calmly addressed some difficult questions thrown at him at a press conference post the match.
On the third day of the second Test, Pujara hit a 53 and made a 111-run stand with Ajinkya Rahane. Rahane is another off-form player who scored 58 in India's second innings and contributed to setting a target of 240-run for South Africa.
Pujara had the same positive demeanour that he showed during batting in the field when he was asked whether he and Rahane were under stress after Gavaskar projected that the second innings might be the last opportunity for them.
Pujara mentioned that Sunil Gavaskar has always been encouraging to them, and they have been learning from him all along. He also added that the team management has been backing him and Rahane, and they are confident of their form now.
The veteran player has remained calm throughout the press conference and said he realises that they will face questions when they are going through a dry phase, but he also knows that players like him and Rahane have fetched a lot of runs for the team. He also stated that he and Rahane are constantly striving to improve themselves.
Pujara added that while they have had a dry spell, they have helped win matches in the past. With the management showing confidence in them, they are now back in form and are ready to score runs and keep it going.
The right-arm veteran batter says he has been grateful to the skipper Virat Kohli and head coach Rahul Dravid for supporting them throughout.