Although I'm sad with your decision, I totally respect it: Phil Simmons on Pollard's retirement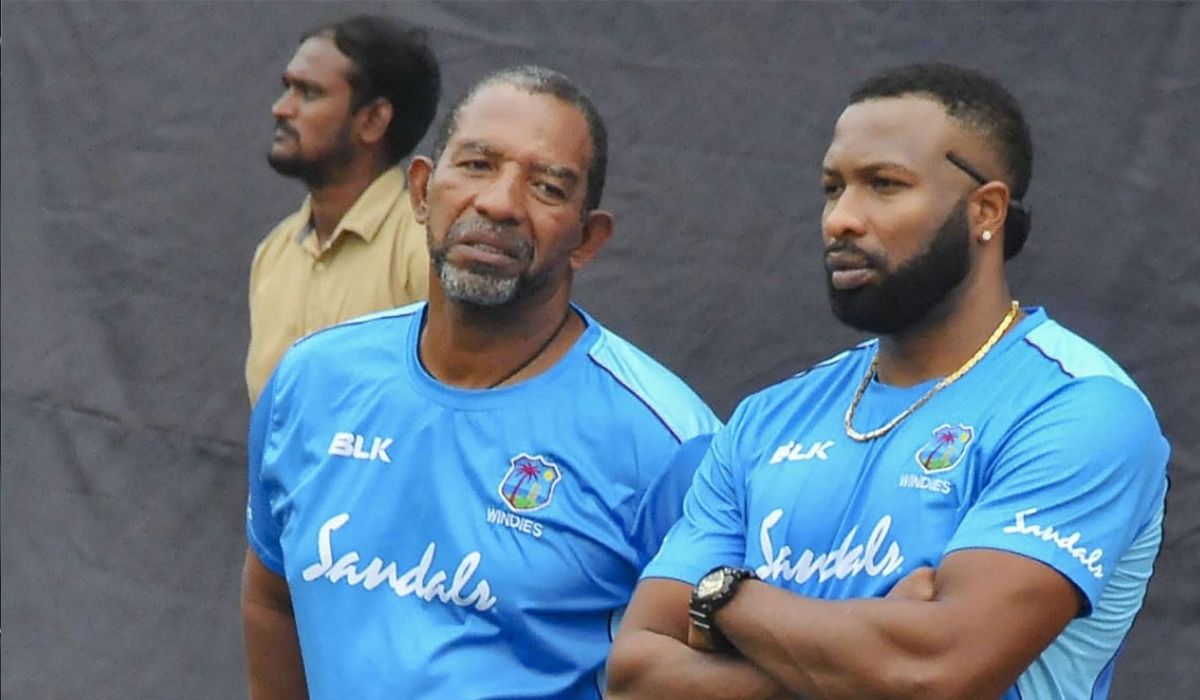 Kieron Pollard shocked everyone with his international retirement which he had announced days ago. The 34-year-old was the captain of the West Indies men's limited-overs team when he had announced his retirement.
While tributes continue to pour in from around the world, the head coach Phil Simmons' tribute was a particularly touching one.
Phil Simmons on Pollard's retirement
He took to social media to write a message for Pollard and said that it is sad to see him retire this early and added that it was a joy to work with him. "It is sad to see you retire from the maroon shirt so early, but I completely understand. Your ability to give players your backing and trust to deliver and your strong leadership both on and off the field was a joy to work with".
He also added that Cricket West Indies will miss him and also acknowledged Pollard's passion and desire for the Cricket West Indies. "Your passion for pushing players to build on skills and knowledge of the game and more. Your unwillingness to settle for mediocrity was a pleasure to work with. Your undoubted passion for the game and especially the Maroon Shirt together with your desire to bring success to the West Indies Cricket Team henceforth Cricket West Indies will be missed. You will be missed".
He added that he is saddened by Pollard's decision but respects it and will continue to back him through the next challenge. "Although I am saddened by your decision I totally respect it and I will continue to back you through the next challenge… Best wishes to you Jenna and the family going forward".
Recently, Pollard took to social media to share a video message, a written statement announcing his retirement from international cricket. In his long message, he thanked coach Phil Simmons briefly as well. "I am grateful to the various selectors, management teams and in particular, Coach Phil Simmons for seeing potential in me and for the faith they steadfastly had in me throughout my career. This and the confidence Cricket West Indies showed in me was particularly reassuring as I stepped up to take on the challenge of leading the team. I wish to express my sincere thanks and appreciation to the President of CWI, Mr. Ricky Skerritt, for his unwavering support and encouragement, especially during my time as Captain," he wrote.
He also wrote that it was his dream to represent West Indies. "As is the case for many young people, it was a dream of mine to represent the West Indies team from the time I was a boy of 10 years and I am proud to have represented West Indies cricket for over 15 years in both the T20I and ODI formats of the game. I can still vividly remember making my international debut in 2007 under my childhood hero, Brian Lara. Wearing those maroon colours and playing alongside such greats has been a privilege that I never took lightly, giving my heart and soul every facet of the game – whether bowling, batting or fielding," he said.
Pollard made his international debut in 2007 and went on to represent West Indies in both ODIs and T20Is. He has played 224 matches for the West Indies including an ICC T20 World Cup title in 2012. He recently became the first West Indian to smash six sixes in an over.
Despite representing West Indies for more than 200 matches, he has never played in Test cricket. He is second-most in the list of men cricketers who had represented their country only in white-ball cricket. South Africa's David Miller holds the top spot in that list.