A Thrilling Win For Haryana Steelers Against Gujarat Giants (38-36)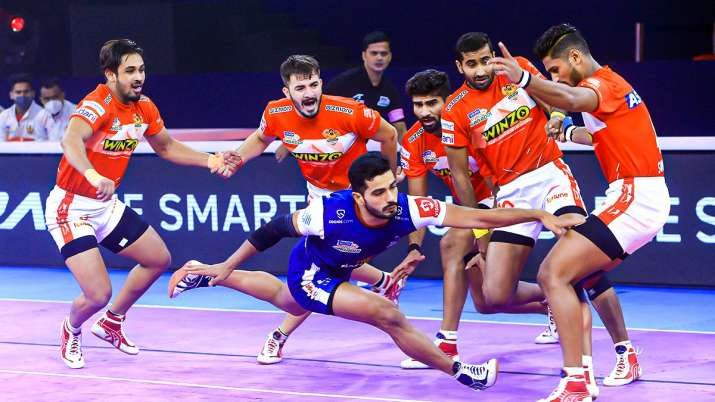 All efforts of Gujarat Giants fell short when the Haryana Steelers stole the show by winning against Gujarat with a score of 38-36. The deadly duo of Vikash Kandola and Meetu Mahender made 20 raid points for Haryana, while Rakesh made 19 raid points for Gujarat.
Match 1st Half Highlights:
Gujrat Giants chose court after winning the toss while the Haryana Steelers started to raid first. Ravinder Pahal and Rakesh score right away, scoring 0-2. Soon the captain of Haryana FC Vikash scores one point for the team. Haryana's Jaiddep stops Rakesh Narwal with an All-Out from where the Haryana Steelers took an early lead in the game.
The duo Jaideep and Meetu maintained the lead of Haryana FC by making another All-Out with a score of 18-6. Vikash scored 6 points in 5 raids while leaving no room for Gujarat Giants to lead. The first half ended with Haryana's incredible defence that let the lead at 22-10 on the scoreboard.
Match 2nd Half Highlights:
As soon as the second half began, Rakesh continued to perform excellently, and the Gujarat defenders finally managed to reduce the score margin to 24-16. Rakesh Narwal does a super tackle to make Esmaeil out of the mat while Ravinder traps Meetu with a double-thigh solid hold. At that point, Ismaeil manages to make both Ravinder and Sunil out of the mat. That leads to an All-Out for Gujarat Giants, and most of the credits go to Ravinder and Sunil both.
However, Rakesh's 18th point extended Gujarat's lead which seemingly sunk the Haryana Steelers' hopes. At that point, Meetu stepped up to deliver an excellent Super Raid. Rakesh tried to pick the winning point with only a minute left, but Mohit tackled him well.
With just 30 seconds left, the Gujarat Giants were forced to defend, and Vikash managed to pick up an easy raid point. It extended the Steelers' winning advantage to two. Vikash did the final raid with just a few seconds left and picked up another winning point for Haryana. He wriggles out Tavinder's ankle hold, and the final score stops as 38-36!
Top Performers from Haryana Steelers:
Best Raider – Meetu with 10 Raid Points
Best Defender – Surender Nada with 3 Tackle Points
Top Performers from Gujarat Giants:
Best Raider – Rakesh with 19 Raid Points
Best Defender – Ravinder Pahal with 4 Tackle Points