A Historic Feat for India and a Rare Defeat for South Africa in Centurion Test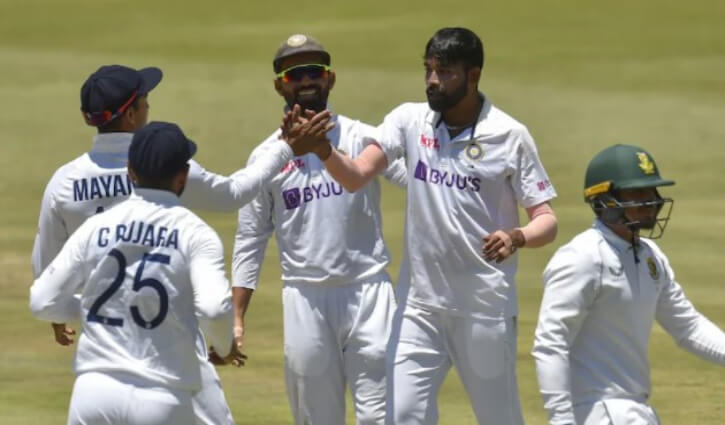 Team India made a historic feat by winning the first Test of the three-match series against South Africa in Centurion. With this, Virat Kohli's Test side accomplished two records in 3 years.
India is now leading by 1-0 in the three-match series after securing the victory by an extraordinary 113 runs. Overall excellent performance from the touring team got India a 130-run lead after scoring 324 in the first innings. The Indian pacer trio did not disappoint the team in the second innings and bowled knock-out punch to South Africa batters. The home side, which had a 305-run chase then got bowled out on 191.
This is the first time after three tries that India won in Centurion and the team will now aim at securing their maiden Test series victory in South Africa.
By winning the first Test, the India team made a remarkable achievement in Test cricket. This is the second time in the India team's history, that the team secured victory in overseas Tests in a single year. As it happens, the first feat was also achieved under the captainship of Virat Kohli.
This year, India saw a total of 4 wins in Tests, including in Oval, Brisbane, Lord's, and Centurion. Similarly, in 2018, India made their way to victory in Nottingham, Johannesburg, Melbourne, and Adelaide.
The overseas Test series in 2021 began in Australia under the captaincy of Ajinkya Rahane since Kohli returned to India in the middle of the series to be present during his daughter's birth. In the same Test, India won the series by 2-1 and broke Australia's long streak at Brisbane dating back to 1989.
Kohli joined the team as captain again during England Tests where England lost to India in two Tests and India got 2-1 in the five-match series. The fifth Test will be held in July 2022 in Manchester.
The ongoing Test series in South Africa is being referred to as India's "final frontier" since that is the only remaining country team India needs to win a Test series.