5 instances when MS Dhoni proved he is "GOAT" of cricket
It has been a long and successful career for Mahendra Singh Dhoni. It doesn't matter whether it's personal accolades or team championships, Dhoni has won them all. Known as captain cool, he has a persona that no cricketer has ever matched on or off the field. Though he has been questioned many times about his theories and working habits, he has always passed with flying colours.
Even at 41 years of age, Dhoni is still one of the best players in the IPL. Throughout his career, Dhoni has experienced many dramatic incidents. Today we will unwind some of those and show you Five times when Dhoni proved why he is the GOAT of cricket.
5. Promoting Rohit Sharma to Opening Slot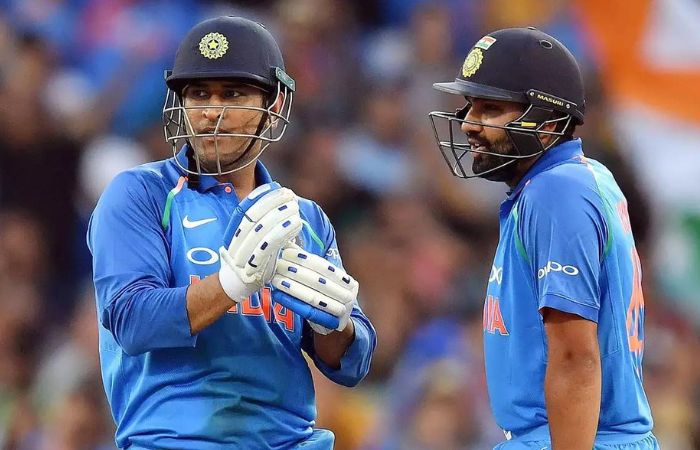 Rohit Sharma has established himself as one of the greatest openers of all time in white-ball cricket, and it is largely due to Dhoni's brilliance. It took him almost six years to establish his name on the international stage after making his international debut in 2007. It was Mahendra Singh Dhoni who supported him through his inconsistent play.
In 2013, Dhoni took a big risk when he promoted Rohit Sharma to the opening slot at Champions Trophy. While India had a strong option like Murali Vijay who was coming off a solid red ball season with India, captain Dhoni promoted Rohit to take up the job despite not having any genuine experience.
Fast-forward to today, Rohit has turned into a beast and holds some of the most outrageous records in white ball. Sharma's brilliance would not have been known if Dhoni hadn't promoted him.
4. Giving Ishant Sharma the 18th over in Champions Trophy 2013 Final.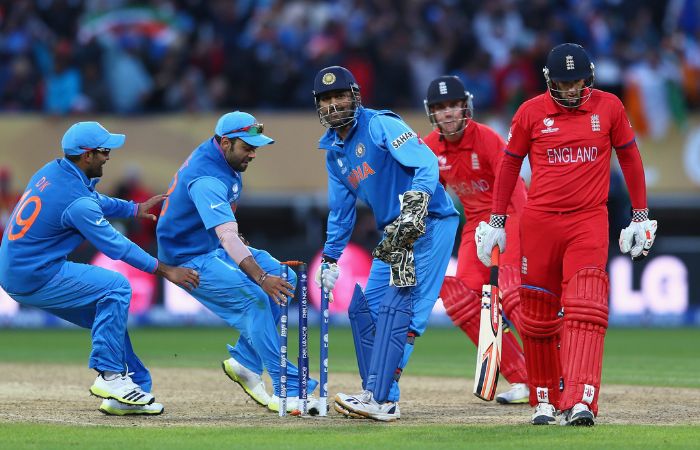 The Champions Trophy-winning campaign of 2013 is one of the most underrated accomplishments of Dhoni's career. As one of the youngest squads in the tournament, the Indian team arrived at the tournament with very low hopes. Dhoni chose to beat experienced campaigners like Harbhajan Singh, Zaheer Khan, Gautam Gambhir, and Virender Sehwag by going with the young rush of blood.
Although India had a fairytale campaign, they were on the verge of losing it all in the final against England. In a rain-affected match, India was defending 129 runs and England needed 28 runs from 18 balls after the 17th over with two set batsmen on the crease with a 56-run partnership. Dhoni gave the ball to Ishant Sharma who didn't have a good outing in the match and was conceding runs at 9 rpo.
He could have given the ball to Bhuvneshwar Kumar or Umesh Yadav who both had economies under 6 but chose to go with Ishant Sharma. Ishant went for six on his second ball, and India's chances appeared bleak. However, it turned out to be Dhoni's masterstroke as he removed both set batsmen within two balls.
3. Winning CB series after dropping Veterans due to fitness standards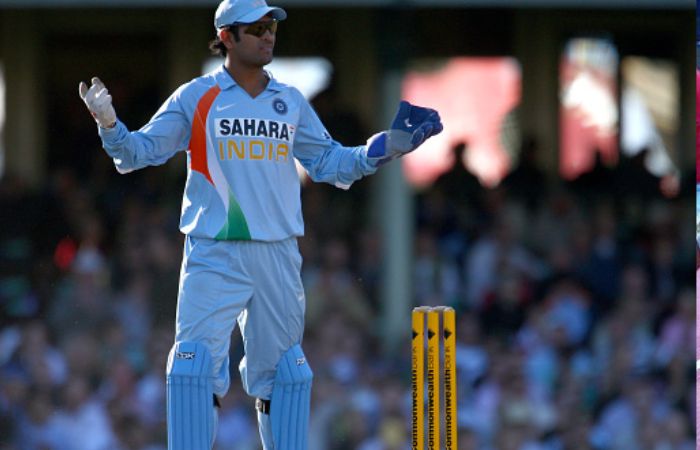 In 2007, Dhoni became the face of the Indian team after leading India to victory at the T20 World Cup. In addition to other courageous decisions he made throughout his career, Dhoni's idea to raise fitness standards laid the foundation for India's emergence on the world stage. The Indian side was never considered an athletic fielding team, but Dhoni was the first to take the initiative, even at the expense of big names.
Dhoni dropped big names ahead of the CB tri-series in Australia in 2008 due to their low fitness standards. There were no more spots for Virender Sehwag, Rahul Dravid, and Anil Kumble, instead, there were spots for Gautam Gambhir, Manoj Tiwari, Rohit Sharma, and Praveen Kumar. In spite of having an inexperienced team, Dhoni won the series and sent a strong message to all Indians to pay attention to fitness.
2. Giving Final Over to Joginder Sharma in World T20 2007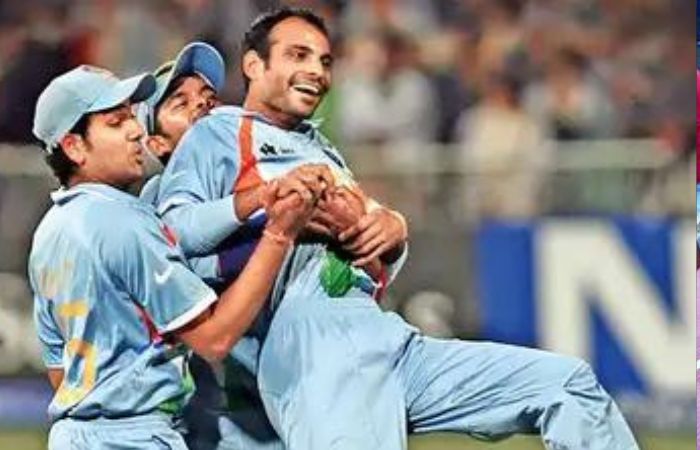 The 2007 World T20 marked the beginning of Dhoni's captaincy dominance. Throughout the campaign, he led the team from the front and displayed excellent man-management skills. Dhoni brilliantly utilized the players in a team that was playing on a big stage for the first time.
As a matter of fact, one of those examples of efficient use occurred in the final of the tournament. India vs. Pakistan is already a big pressure match, but if it is in the T20 Final, the matches surpass all expectations. Keeping nerves when under pressure isn't easy, and Harbhajan Singh also faced the heat when Misbah Ul Haq smashed him for three sixes in the Final.
The match went to the final over, and Pakistan needed 13 runs off 6 balls to become the inaugural World T20 champions. Dhoni had a tough choice to make since he had only Harbhajan and Joginder Sharma to choose from.
On the one hand, he had an experienced player who was struggling with pressure in the final, while on the other hand, he had a bowler who hadn't even fired a shot. In the end, Dhoni chose Joginder Sharma, who dismissed Misbah after going for six on the first ball and gave India the cup.
Batting order gamble in the 2011 World Final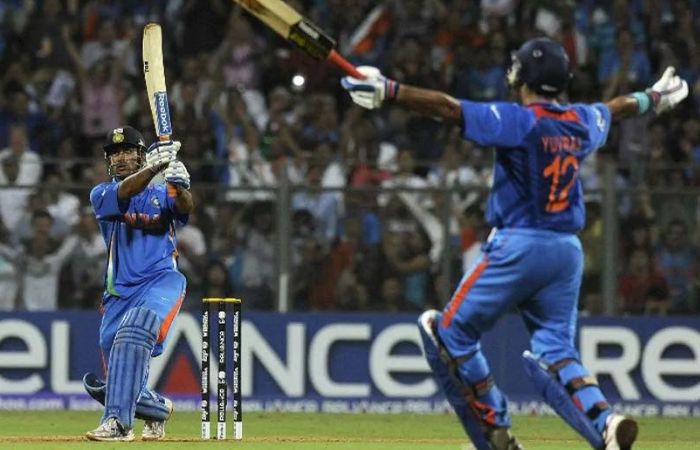 For Indian fans, the 2011 World Cup was more than just a competition. Firstly, it was held in India after 1996. In addition, Sachin Tendulkar was playing in his last world cup. It was everyone's desire to win it for little master, and from day one the spotlight was on India's performance.
In the final, India faced Sri Lanka, arguably the strongest team in the tournament. The Indian team was given a target of 275 runs, which has never been achieved in the history of the World Cup. India was dealt with huge blows while chasing and was 114 for 3.
The Indian skipper took the gamble and trusted his abilities at a time when everyone was expecting Yuvraj Singh to come to the crease who had an outstanding campaign. Dhoni scored an unbeaten 91 runs as India won the World Cup for the first time in 28 years.